Canada's Northwest Territories investigating medevac response time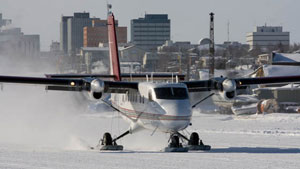 The health department in Canada's Northwest Territories is investigating why it took five hours for a medevac to arrive in the community of Trout Lake after a boating crash two weeks ago.
Air Tindi has King Air outfitted as medevacs to respond to emergencies, but Trout Lake is one of three communities that doesn't have a runway long enough for that type of plane to land.
By the time a Twin Otter arrived, an elder injured in the boating crash had died.
Stanton hospital's contract with Air Tindi says the King Air medevacs must be off the ground within 45 minutes. However, when a call comes in from Trout Lake, Nahanni Butte or Jean Marie River, a twin otter is required.
Those medevacs need up to four hours to get in the air because the plane must get equipped.
"Finding a Twin Otter that's available, putting the stuff in and then dispatching. In the Trout Lake incident the plane is dispatched in just under two hours – well within the terms of the contract," said Debbie Delancey, the deputy Minister of Health and Social Services.
Trout Lake's MLA, Kevin Menicoche, wants Twin Otters on standby, and possibly in Fort Simpson, which is closer to those three communities.
"Once again it's the smaller communities that are being disregarded, but the people living in small communities are just as important," he said.
Delancey said the health department is looking at the chain of events, from the time residents called for help, to when the plane arrived. She said they will look at what happened, whether the proper protocols were in place, and if they were adhered to.
Health Minister Tom Beaulieu also plans to visit Trout Lake later this month to meet with residents.
Pilot program for 24-hour phone line
The health department is also planning a new dispatch program to ensure health care workers in small communities can speak to a doctor.
Community members had difficulty reaching the health centre in Fort Simpson to call for help. They tried for almost an hour before getting through to anyone.
Delancey said the department is starting a pilot project this fall with a 24-hour dedicated phone line.
"It's no comfort for the situation that happened in Trout Lake, but once we have that in place in the future, there won't be a need to make sure there's somebody manning a phone in the health centre because we'll have a dedicated line for the whole Northwest Territories," she said.
Delancey said the call centre will be responsible for dispatching medevacs and responding to emergencies. She said it could also be used to help people to get medical advice in situations where it's not an emergency.
She said the department is starting the program, in part, to cut down on medical travel costs which could be avoided.