Crowded Bethel, Alaska domestic violence shelter pulls double duty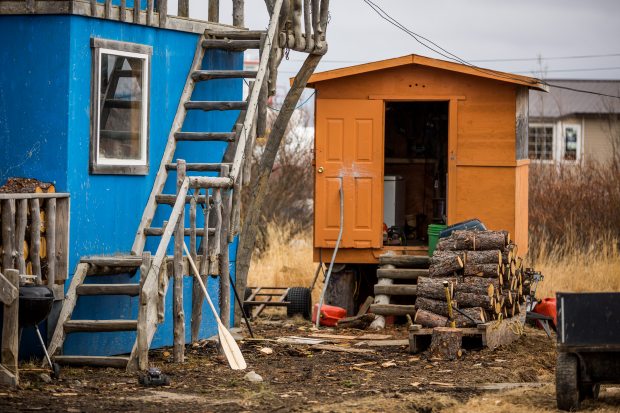 Four months have passed since Christina David fled an abusive relationship and found herself and her granddaughter under the auspices of Bethel's domestic violence shelter. Four months later, and she still searches for a safe place to call home in Southwest Alaska's largest city.
What prevents her from moving forward is not a lack of trying, nor a fear of running into her husband, who has since moved back to a nearby village where he's from.
There is literally nowhere for her to go.
David, 59, left her husband in early February. She first turned to family. She tried staying with her sister, whose heavy drinking turned out to be too much for David, who didn't want her 6-year-old granddaughter exposed to that influence.
So she wound up in the shelter. "I didn't want to come here, but there's nowhere to stay, you know?" David said.
Now, she's in a bind. Bethel's rental units are full, the waiting lists in the double digits, and any remaining units are so expensive that the savings she has stashed away during her months at the shelter would cover enough to get her in the door, but not enough to stay long-term.
She combs through housing listings regularly. "I've been looking since I came (to the shelter)," she said, "and I'm still looking."
As the months wear on, the urgency weighs on her. "I really, desperately need a place," she said.
'Barriers to safety'
Her situation is common for people who need shelter in Bethel, a city of 6,000 on the banks of the Kuskokwim River, where the cost of an apartment rivals New York City prices, and the demand for low-income housing far outweighs the facilities. Women flock to the shelter, the Tundra Women's Coalition (TWC), from Bethel and 56 villages of the Yukon-Kuskokwim Delta that surround it seeking temporary support, but a full 75 percent of them end up staying months on end, in search of homes, jobs and childcare — sometimes all three.
That leaves TWC, rebuilt and expanded in 2009, at continual overcapacity, with enough beds for 30 people, more mattresses on the playroom floor and women sometimes sleeping on the living room couches.
"Access to housing is one of the biggest barriers to safety that people we're serving experience," TWC executive director Michelle DeWitt said.
The problem of affordable housing is so prevalent in Bethel that the shelter will sometimes take in people being evicted or who have been asked to leave an overcrowded home. But while the shelter will always make room for domestic violence victims, there's not always space for people being evicted, and TWC has had to turn some of them away. Money set aside to help people avoid eviction is drained within the first few months of the year.
David called shelter living "pretty hard." It's crowded and noisy, and there's little privacy. Her 6-year-old granddaughter is handling it well; she has made friends at TWC. But from time to time, she'll ask when they'll have a home again.
For David, the first step to getting out of the shelter is securing a good job.
She has been able to save some money in her months after leaving her husband, but she's been pretty much on her own for the past twenty years. "All I did was work to put food on the table."
David had a good job working for the city of Bethel. When she left her husband, she also left her job; now that he's out of the city and the threat of him interfering in her life has passed, she's been hired back on-call, and will soon start working part-time again.
"Oh, it's going to be so good," she sighed.
David's job prospects put her in a better situation than most women staying at the shelter. Many clients are just starting out in the work force, DeWitt said, and struggle to find decent wages working in the city.
But even with money flowing in, finding an apartment will remain a challenge for David.
Waiting game
She was promised a place back in March, but got a call the next month that the family who had planned to move decided instead to stay put. She's applied to TWC's transitional housing, low-income housing where women can live for a year, but will have to wait 12 months before moving in.
Units are completely full at with the two major providers of low-income housing in Bethel. AHFC's low-income housing development, Bethel Heights, has 117 units. None are currently available, and there are 49 names on the waitlist right now, Kris Duncan, a planner at AHFC, said. AVCP has 5 housing units available, but they're for seniors only.
Mark Charlie, vice president of operations at AVCP, said the organization has 1,000 single family low-income housing units in the region. But "when you look at the need versus the resources, we're far behind," he said.
There is a need for 4,000 additional low-income housing units in the Yukon-Kuskokwim region, but funding exists for constructing only 20 every year, Charlie said.
When a family is denied low income housing because there's not enough space, "it gets to you," he said.
The Alaska Housing Finance Corp. (AHFC) and the non-profit organization Association of Village Council Presidents Housing Authority (AVCP) both pay most of the costs of rent, asking that residents pay 30 percent of their income. Beyond the long wait lists of low-income housing, the prospects of finding an affordable place is next to nil.
To afford a 2-bedroom apartment, costing $1,000 a month, folks need a wage of $26.06 per hour, according to AHFC data. But even that may even be an understatement. Bethel Native Corporation charges $915 for just a studio, plus electricity. A studio apartment with Kreider Rentals costs $1,100, plus electricity.
A 2-bedroom with Kreider Rentals cost upwards of $1500. Owner Irv Kreider said that the high prices are due mostly to extremely high costs of fuel. People looking to rent in Bethel "can't afford this place," Kreider said. "Everything just ties in, and it's completely crazy."
In the meantime David can't afford a $1,500-a-month apartment. She's hoping a friend at the shelter will split the rent with her, but so far hasn't found anyone.
"I'll just keep looking," she said.
Solutions wanted
Bethel is on AHFC's "watch list," this year, as the agency has identified 24 homeless people in the city, with no shelter available due to overcrowding at TWC.
To combat the problem, a homeless coalition was formed between city officials, tribal organizations and housing providers. Community leaders are now meeting once a month, in search of creative ways to combat homelessness.
While the city of Bethel itself does not have funds allocated to providing low-income housing, city manager Lee Foley described the city's function as a "supportive role" for other entities that are seeking to provide more affordable homes.
Foley said that the city is working with two additional providers looking to build low-income housing in Bethel. First, the Orutsaramiut Native Council has started working with the city to build a new low-income housing unit.
An aging trailer park is also being eyed as a site to build additional low-income housing. As the trailers become derelicts, the park owner SeaLion Corporation is looking at removing them and building low-income housing in their place.
Both of those projects are long-term, however, and short-term solutions are still vague.
Contact Laurel Andrews at laurel(at)alaskadispatch.com