Survey: Finns wary of following Sweden into NATO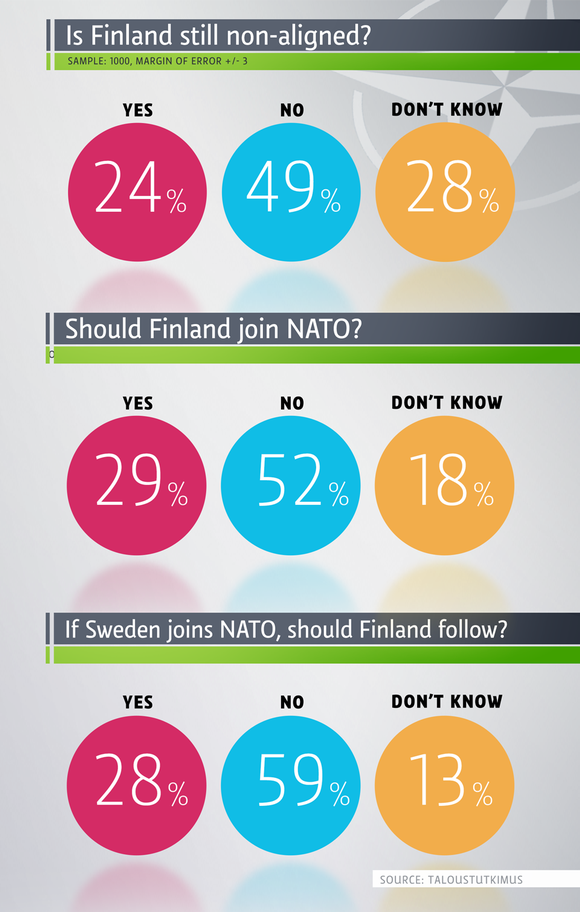 According to a fresh Yle survey, a majority of Finns don't think that Finland should join the NATO military alliance, even if neighbouring Sweden is on board.
The Yle survey conducted by pollster Taloustutkimus found that most Finns oppose Finland's membership in NATO – some 52 percent of a sample of about 1,000 respondents.
Moreover, a slightly larger percentage still didn't take a liking to the idea of NATO membership, even if neighbouring Sweden were to also join the alliance – some 59 percent. Just 28 percent supported the idea of following Sweden into the military pact.
Taloustutkimus research director Juho Rahkonen said that the position of ordinary Finns on NATO membership has remained more or less constant across a number of different surveys since the beginning of the 1990s. It came as no surprise that Swedish membership in NATO did not sweeten the deal for most Finns.
"The majority of Finns think that Finland should make its own decisions regardless of what neighbouring countries do. For example when Baltic countries joined NATO in 2004, that also wasn't enough to influence the Finnish stance on NATO," he explained.
"Finland no longer non-aligned"
Researchers also asked respondents whether or not they thought Finland was still a non-aligned state. A recent report by the cabinet's Foreign Affairs Committee conjectured that complete military non-alignment might no longer be possible.
The survey showed that nearly half of Finns had arrived at the same conclusion. Altogether 49 percent of respondents agreed fully or in part that Finland is no longer non-aligned, compared to 24 percent who disagreed fully or partly. A fairly significant portion – 28 percent of respondents – didn't take a position on the question.
Taloustutkimus interviewed 1,000 respondents between June 5 and 11 for the survey. The margin of error was plus or minus three percent.