Canada's Arctic research station design incorporates Inuit knowledge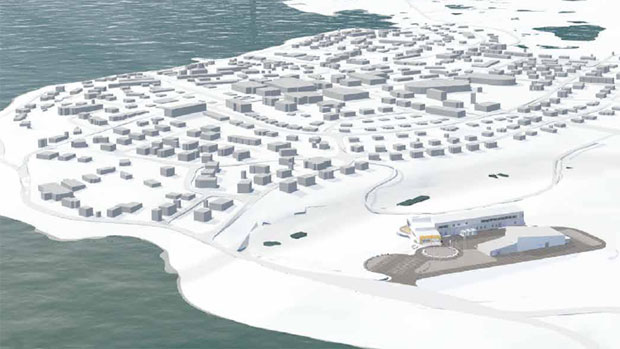 Inuit knowledge and culture have played major roles in the design and function of the $142 million High Arctic Research Station planned for Cambridge Bay in Canada's eastern Arctic territory of Nunavut.
Architects working on the project, which will be one of the largest buildings in Nunavut, unveiled their plans to the community last week.
In 2010, the federal government chose the hamlet for the site of Canada's newest research station, called CHARS.
Montreal architect Alain Fournier told community members that the design team considered Inuit culture and philosophy in almost every aspect.
"It's more than just token, hanging cultural elements here, cultural elements there," he said.
"It's really trying to delve as deeply as we can into the sources of culture. This is not an ivory tower. It's a research station that intends to be welcoming and open."
An outdoor space recalling a Qaggiq, a massive communal igloo, will welcome guests to the station. Inside it is another public space for locals and researchers to sit and have tea.
The grounds include five buildings: the main station, maintenance and field house, two tri-plexes, and a dorm for visiting scientists.
The facility is also environmentally friendly. Solar panels will line the southern facade, and there will be composting toilets.
Fournier said every detail was influenced by people who know the land the best.
"For instance, all the main entrances are located in such a way that they are scoured by the wind so snow won't accumulate. It's common sense, but it's common sense based on tradition."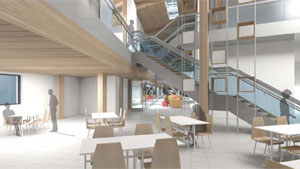 The nod to tradition isn't going unnoticed.
"Having traditional knowledge incorporated in the facility is the most important thing. For youth, it will be an opportunity of identity, [to] know who they are," said community member Bernice Lyall.
Formal blueprints will be ready in about a month. Then, the design team will return to the hamlet for further consultation.
Construction is scheduled to begin next summer to transform the rugged landscape into a world-class research hub.