Greenland iceberg clusters off Atlantic Canada largest in years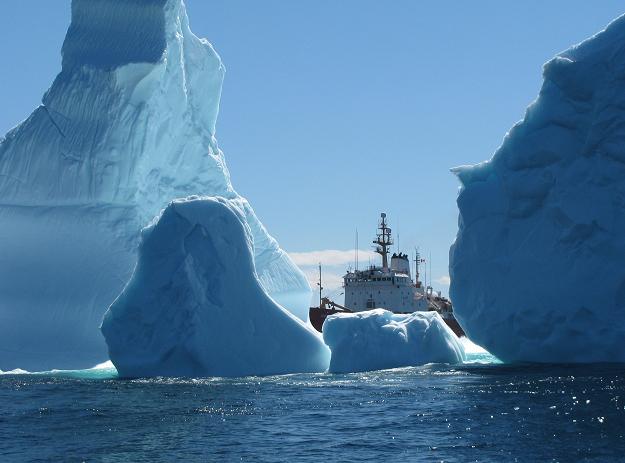 ST. JOHN'S, N.L. — The largest iceberg cluster seen in recent years is drifting south off Labrador near the Strait of Belle Isle through transatlantic shipping routes, says the coast guard.
Peter Veber, Atlantic superintendent of ice operations, said there are about 250 icebergs within a 100 kilometre radius of Belle Isle off Labrador.
"The shipping that is going through there are reporting numerous bergs," he said Thursday in an interview. "We have a ship operating up on the Labrador coast and likewise our own people are saying that they're seeing more now than we've seen for years up there."
In all, the coast guard reports that the numbers are three to four times what has been recorded in the last five years.
Veber said the icy concentration includes everything from smaller "growlers" that hiss and groan as they melt, to bergy bits and "growlers" that hiss and groan as they melt, to bergy bits and glaciers that creep over the surface of Greenland and eventually snap into the sea.
"The lower, flatter ones that are large, they typically indicate they could have come from the Petermann Glacier on the Greenland coast. There was a significant calving that took place in 2010 and 2012.
"It's very likely that the number of bergs we're seeing now are attributed to those couple of events."
But Veber said the icebergs are unusually far north this year and it's not clear how many will eventually be seen off Newfoundland.
Typically by late June, at least some icebergs have made it about 500 kilometres south of St. John's.
This year, Veber said the most southerly drift is still about 100 kilometres north of Fogo Island.
It often takes three years or more for an iceberg to travel from Greenland to Newfoundland's coast, said Cecil Stockley, a lifelong berg watcher and tour guide in Twillingate, N.L.
Stockley is captain of the 20-person M.V. Iceberg Alley and is known as the Iceberg Man. He said it's a great business but there has been just a trickle of mostly smaller, older icebergs since he got out on the water in early May.
"You've got to understand, there's a lot of people out there looking for icebergs," he said from Twillingate.
Stockley said most visitors from across Canada and around the world understand that seeing an iceberg is not a sure thing and every trip out is different. Still, there are some people who think "it's going to be absolute" and are then bitterly disappointed, he said.
"I do an iceberg interpretation in my building to bring the point across but I think we're getting outside of ourselves. We need to really pull back and do a good education on how icebergs move."
Veber said the sea currents, the warmth of the air and water, all help to determine where big ice moves and how fast.
Northeastern Newfoundland around St. Anthony down to Twillingate could still have a good, although late, iceberg season, he said.
"Notre Dame Bay, I'd say they're going to see their share of icebergs up there. But how far they're going to make their way toward the east coast (of Newfoundland) is yet to be seen."