Inquiry continues into deadly 2012 wolf attack at Swedish wildlife park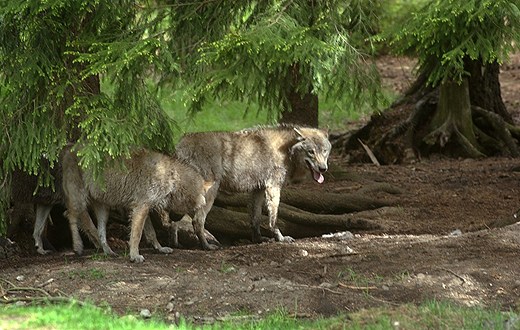 It may take a long time before we find out exactly how a pack of eight male wolfs could attack and kill a zoo keeper at Sweden's Kolmården Wildlife Park last summer.
A year after the tragic accident, the police investigation into the tragic incident is far from reaching any conclusions.
The attack happened just an hour after Kolmården, located in eastern Sweden, opened its gates for the 2012 summer holiday season.
The 30-year-old female zoo keeper was alone in the wolf pen when the animals attacked and killed her.
This week, the park welcomes visitors for the 2013 summer season, but prosecutor Jan Andersson tells Swedish Radio that the investigation is complicated and could go on for another year.
"This case is unique and we're dealing with complex legislation," says Jan Andersson.
He adds that a great deal of information must be collected and carefully examined – and that takes time.
How should wolves be treated?
After the accident, the park decided to forbid visitors from entering the wolf pen to pet the animals. The Swedish Work Environment Authority lobbied for Kolmården to be prosecuted over the incident.
It also gave fuel to a heated debate in Sweden about how one should treat wolfs.
Speaking to Radio Sweden at the time, Gunnar Glöesen of the Swedish Hunter's Association said:
"Kolmården is part of the wolf debate in Sweden. They have tried to teach the Swedes that the wolves are not dangerous, you can play with them, you can get cosy with them. Now the lesson that Swedish people have learned is that they are wolves, and should be treated as wolves."
However, zoologist Hans-Ove Larsson dismissed attempts to link the events at Kolmården to the debate about the wild wolf population.
"You have to separate the wild wolves totally from these tame wolves, because they are two different animals more or less. These who are accustomed to people, they are dangerous. The wild ones are not," says Larsson.
The head of Kolmården, Mats Höggren, said that the zoo keeper had broken no rules by going into the pen alone and that wolves at the park are usually not aggressive.
He does not want to comment on the ongoing investigation, but told Swedish Radio that he hopes it will conclude soon.
"Of course knowing that it will take a long time is frustrating," says Höggren, adding that he and his colleagues at Kolmården would like to leave the incident behind them and move on.