Canada's Northwest Territories begins tough job of implementing devolution deal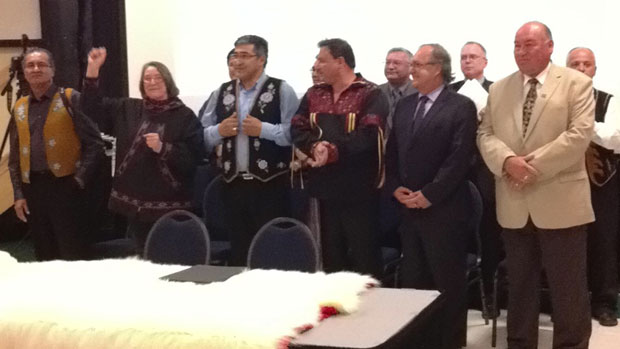 Canada's  Northwest Territories (N.W.T.)  is celebrating a milestone by making its devolution agreement official, but many leaders say there is still much work to be done to implement the deal.
The deal, signed in the Arctic community of Inuvik on Tuesday evening, comes after decades of work and negotiating by the Northwest Territories government, First Nations and the federal government.
The deal gives the territory control over its land and resources, as well as a greater share of the territory's royalties.
The N.W.T. will now split royalties from oil, mineral and diamond resources equally with Canada's federal government. The five aboriginal groups that signed the deal will get half of the territorial government's share.
They're still finalizing how to divide it up among the aboriginal groups. They could use a formula based on population and cost of living.
So, signing isn't the final step. There is still much more work left to do to make this deal work.
"Anyone can go and shoot the head off a muskrat, but who is going to clean it, gut it? I think that's the phase we are in. How do we go from the implementation? And that's the most difficult part," said Nellie Cournoyea, the CEO and chairperson of the Inuvialuit Regional Corp.
The territorial legislature must pass 24 pieces of new legislation and shift 175 jobs from the federal to the territorial government.
All this has to happen before millions of dollars in resource revenues begin to flow next year.
Dehcho leaders discussing deal at assembly
The devolution deal has not been without controversy, from the financial terms of the agreement to the public's involvement.
Dehcho First Nations leaders are talking about devolution at this week's Dehcho assembly in Fort Providence, N.W.T.
The region's leaders had chosen not to take part in Tuesday night's signing of the devolution agreement.
"For us it's not about money. It's never been about money. It's about land and governance," said Richard Lafferty, a negotiator with the Dehcho First Nations.
"Devolution is basically the biggest land claim in the country, and it's the Government of the Northwest Territories' land claim. It's not ours."
Lafferty said that by not signing on to the devolution agreement now, it doesn't mean they will be left behind.
The Dehcho are currently negotiating their own land and resource agreements with Ottawa.
The premier of the Northwest Territories said he hopes the Dehcho will sign on to the devolution deal within the year.