Crews unearth military history on Alaska Glacier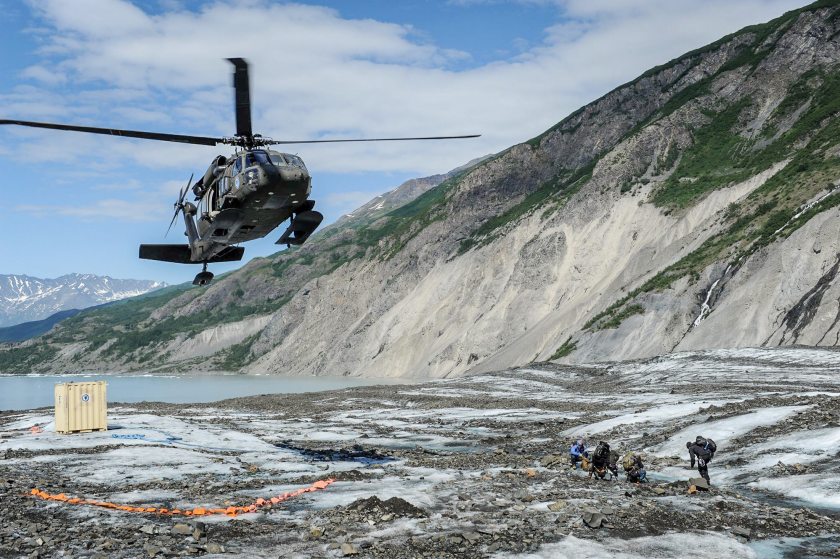 Colony Glacier, about 50 miles from Alaska's largest city of Anchorage, may look calm on the surface, but it's a roiling, cracking, shifting mass of ice on a grand scale — which helps explain how a new field of debris from a 1952 military plane crash has emerged this year, after an intense recovery effort of similar wreckage in 2012. At the same time, the undulating glacial surface is also making recovery of that new debris all the more interesting.
Crews from Joint Base Elmendorf-Richardson and Joint MIA/POW Accounting Command (JPAC) have been out on the glacier since last week, making daily trips and sifting through wreckage of a C-124 Globemaster that crashed into nearby Mount Gannett more than 60 years ago. It's the second mission out to the crash site after the wreckage was first spotted in June 2012, which prompted a week-long recovery effort to recover a multitude of tattered historical material and human remains from who-knows-how-many of the 52 souls aboard the plane when it went down.
According to U.S. Air Force historian Douglas Beckstead, the mere fact that the glacier saw fit to spit out the debris after such a long time is incredible.
"These things survived in a glacier for 60 years — it's amazing," Beckstead said this week. Among the materials recovered are unused survival kits — containing things like a soggy pack of Camel cigarettes and a guide instructing soldiers how to fish — and a ragged mail bag, a remnant from the 6,000 pounds of undelivered mail that was aboard the Globemaster when it went down.
After clearing the glacier of visible debris in 2012, teams from JBER and the Alaska Air National Guard made fresh overflights this year and discovered the new field, thanks to the ever-changing landscape, scratched with fluctuating crevasses and moving ice. With that new material, JPAC was determined to make another trip up to the Last Frontier in the hopes of recovering more remains from the debris field.
Fresh off the day's expedition, Dr. Gregory Berg with the JPAC recovery team spoke about the conditions on the glacier, which he said was making a "game of nature" out of efforts to unearth the missing airmen.
He said the debris field stretches over a distance of about a kilolmeter, with a width about half that. JPAC team members, along with members of an elite parajumpers squadron familiar with glacial maneuvers, have spent the past week picking through the debris looking for more human remains, or items that could be associated with a person who was aboard the plane when it crashed.
Berg said that the team thus far had found an ID tag belonging to one soldier, adding to another found last year. They're looking for clothing, journals with handwriting in them, and actual remains — "tissue, bones, teeth," Berg said. Finding intact tissue is a rarity, owed in large part to the cooler preservation of the remains in the ice of the glacier and the long winters.
"There is tissue, things we believe to be tissue," Berg said. "You don't see that in Vietnam," another region where JPAC is active in recovery efforts for missing U.S. soldiers.
Despite those advantages, with Southcentral Alaska's late but warm spring, the glacier is also providing its own hindrances to the operations. Berg said the glacier is changing on a day-to-day basis, with some crevasses beginning at just a few inches and spreading open to four feet over the course of a few days. Crews are working quickly recover material before it is reclaimed by the shifting ice.
Alaska-based assets are moving debris from the glacier — a total of about 1,800 pounds so far — in order to clear the field and provide a fresh line of sight in case even more material turns up next year.
Lt. Col. Adrian Crowley with Alaskan Command said the Alaska team hopes to have the site cleared by the time JPAC completed their 2013 mission, likely sometime next week.
Waiting for answers
Meanwhile, JPAC continues to work on analyzing remains recovered from the site last year, while family members anxious to learn if their lost loved ones were among those remains continue to wait for closure.
In the year since the first wreckage was recovered from Colony Glacier, JPAC has collected DNA samples around the U.S., searching for matches with the recovered remains.
According to Brian Gorman, whose uncle Col. Eugene Smith of the U.S. Air Force was aboard the plane, his family delivered DNA samples sometime last July. Since then, it's been a waiting game.
"We're told that it's just going to be a long process," Gorman said Wednesday from Delaware. "We have to wait until everybody can be accounted for — all the families have to be accounted for — before they give any results out."
In the meantime, the family received a few pieces of the plane, which Gorman described as essentially just scraps of "lightweight metal."
Identification of remains came a bit too late for Gorman's family. Last August, Gorman's aunt Peg — Gene Smith's sister — passed away. Then, shortly after receiving those pieces of the plane in February, Gorman's uncle Mike passed away — the last of Gene Smith's six siblings.
Gorman said that Smith didn't have any children of his own: "The family story was that he was going to be a priest, and then the war called." But he has more than 50 surviving nephews and nieces across generations, all waiting for the final results.
Despite some concerns that this new recovery effort might "reset the clock" on identifying whose remains were discovered last year, JPAC's Greg Berg said the process was "the final steps" before families will begin to hear word.
Lee Tucker, a spokesman for JPAC, confirmed that the new debris field wouldn't delay identifying next of kin in last year's discovery.
"Anything that we found last year, if we can make an ID on that, we will release that information to family members," Tucker asserted Wednesday.
Berg cautioned that only a small portion of the aircraft had resurfaced — he gave a very rough estimate of only 20 feet or so of the 154-foot aircraft had emerged — so it would be difficult to say how many of the passengers' remains aboard might eventually be recovered. There's been discussion between JPAC and Alaskan Command about the possibility of regular return missions to the glacier, dependent on the continued discovery of new debris.
Still, families are holding out hope that their long-lost loved ones might be among those found. Gorman said that his uncle Gene had long ago gotten a memorial marker at a veterans' cemetery in Delaware.
"It was never forgotten, we know we had uncle Gene, and he was the legend in the family," Gorman said, the uncle serving in a criminal investigation division that tracked down jewelry stolen during World War II.
Gorman added that although the process has been slow, he understands JPAC officials were doing what they could to get information to the families awaiting response. He said he knew they were lucky to have anything, given that for more than 60 years the plane has been ground down and moved by the glacier.
"It's almost like God gave it up and said, 'Here, we're gonna find these people and let them have closure,'" Gorman said. "I'm not really religious, but it's almost like God said, 'Here, we're gonna give them back to you.'"
Contact Ben Anderson at ben(at)alaskadispatch.com