Icebreaker arrives in Iqaluit, Nunavut to open Frobisher Bay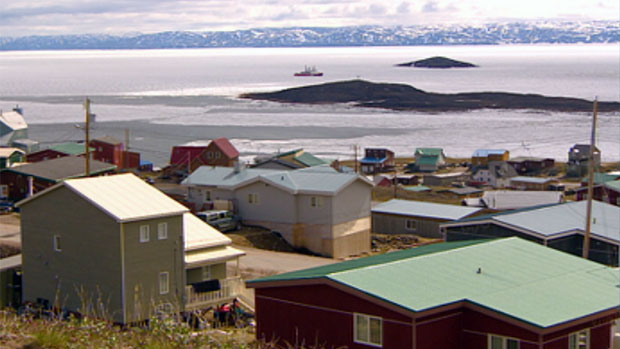 The Canadian Coast Guard icebreaker Henry Larsen arrived at the inner part of Frobisher Bay in Canada's eastern Arctic territory of Nunavut  late Wednesday morning to make way for two vessels — a tanker and a cargo ship.
The two ships — the first supply vessels to arrive at Iqaluit, Nunavut's capital city, this year — are waiting about 64 kilometres from the city. Once they arrive safely, they'll offload their goods.
Andy Maillet with the Canadian Coast Guard's Regional Operations Centre for Central and Arctic Region in Sarnia, Ontario, said by breaking up the ice, the Henry Larsen is helping it melt faster.
"The inner harbour, since it's all frozen there's no ship tracks in it," he said. "And if you left it to melt on its own, it could take quite a while."
He said the conditions that caused ice to drift back into Frobisher Bay last summer have not happened this year.
"This year we were fortunate and the majority of the ice flowing down the east Baffin coast remain outside Frobisher Bay," he said.
It's expected that the icebreaker will escort the two vessels closer to Iqaluit later Thursday.
Jean Pierre Lehnert with the Coast Guard in Iqaluit said the ships will make a decision this morning based on the wind, current and tide conditions. "They'll be doing some ice patrols, and then according to the ice conditions, they will proceed," he said.
The Henry Larsen is the first of several icebreakers that will arrive this summer. Lehnert said the Pierre Radisson left Quebec City yesterday and by the end of July all Coast Guard icebreakers will be patrolling the Arctic.