Program to recruit pediatricians to Alaska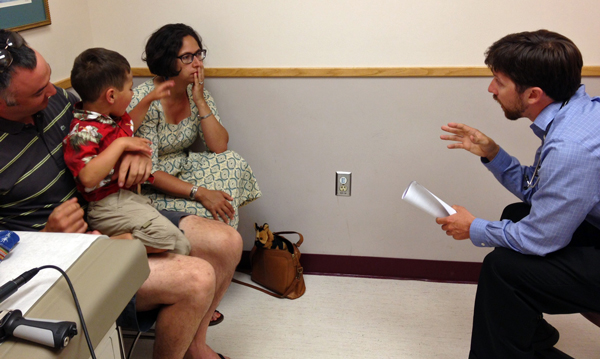 Four pediatric residents got their first taste of Alaskan style medicine this spring. It's part of a new partnership based at the University of Washington and Seattle Children's Hospital to create an unusual type of medical residency where doctors will spend one third of their three year training in Alaska. The program is designed to help recruit more pediatricians to stay in the state after they graduate.
As a resident at the University of Washington in Seattle, Dr. Eric Foote is used to biking to work. But when he spent two months in Bethel this spring, he decided to try a form of transportation more fitting for the snowy tundra:
"I was cross country skiing to work and one day it was 20 below… and the snow on my face froze."
To listen to a report by Annie Feidt, APRN – Anchorage
Foote may not have loved the cold in Bethel, but he did love the medicine. He experienced just how remote the rural villages are when he helped Medevac a toddler who was having trouble breathing from a Yukon river community to Bethel. The boy ended up having pneumonia and recovered after an extended stay in the hospital. Foote says cases like that one force pediatricians to work more independently in a place like Bethel:
"It's not the same as being in a big city like Seattle where the specialists are in the same building and you can call them up and they can come see your patient the same day if you really need them to. So you have to rely more on your clinical judgment and develop more of your clinical skills to deal with the problems as you can and where you are."
Foote is part of the "Alaska Track" at the University of Washington's pediatric residency. A group of doctors in Anchorage started working to make the idea a reality about five years ago as a way to increase the number of pediatricians in the state. Dr. John Tappel was part of those early conversations:
"There's the concept where doctors tend to stay where they train, well nobody was training in Alaska."
Currently, there is only one residency program in Alaska, for family practice doctors. A full pediatric residency was unrealistic in the state because pediatricians in training need exposure to more specialty care patients than a small city like Anchorage can offer. But Tappel says a program that drew University of Washington residents to Alaska for part of their training made a lot of sense:
"We had a major Children's hospital down in Seattle. A major need up in Alaska and parties willing to work together."
The four residents practice at sites in rural and urban Alaska. By next year, Tappel's clinic, LaTouche Pediatrics, will host a rotating group of University of Washington residents throughout the year. Dr. Foote spent two months at LaTouche after his time in Bethel. On a recent morning, he performed a regular check up on a slightly reluctant four year old, asking him to roar like a lion so he could look down his throat.
Foote says he likes being exposed to both rural and urban medicine in Alaska. Dr. Christine Tan, who oversees the program, says it was designed that way. She says there isn't a huge shortage of pediatricians in Anchorage, but rural parts of the state need help recruiting more primary care doctors:
"We have seen with the Family Practice residency that a lot of their graduates go on to do rural medicine. And we're hoping that will also be true for the pediatric residents. So if we can get them up here and get them excited about being here, maybe we can recruit them to those other areas as well to deliver health care out there."
Dr. Foote just finished his first year of residency. He's not ready to make a commitment to stay in Alaska yet. But he says he's definitely considering it.