Nunavut, Canada outfitters complain of federal red tape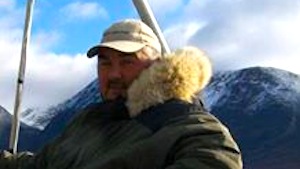 Some outfitters who take tourists across Canada's eastern Arctic territory of Nunavut have said they're frustrated by the process of applying for insurance and certification.
They said the system is too costly and includes superfluous regulations, which includes learning radio codes which aren't used in Iqaluit's waters.
Glenn Williams is a former outfitter in Iqaluit who gave up his business. He said federal requirements are not adapted to the North and create too much red tape.
"You learn to use a radio system that we don't have access to, you learn radio codes and those types of things that don't apply to up North," he said.
Williams said many outfitters aren't aware of federal regulations when it comes to insurance and especially marine regulations.
"A large majority of the boat operators in Nunavut have insurance through Nunavut Tourism and are not compliant with Transport Canada. And if you're not compliant, then your insurance does not apply so you're personally liable," he said.
Nunavut Tourism said they're trying to make sure everyone has the correct information. This includes meetings with local hunters and trappers' organizations.
The threat of injury while on the land and the ever-present possibility of search-and-rescue requires comprehensive insurance for northern sport hunters and tourists. But outfitters wish the process could be made easier.
Peter Kilabuk owns and operates an outfitting business in the community of Pangnirtung. He said it's a way to monetize his land skills.
"I love the work, I love outdoors, I love meeting new people. It's for me a personal satisfaction before the business satisfaction"
But Kilabuk doesn't love the paperwork.
"There is quite a lot of what I feel is an overkill of licence requirements to operate in small communities and it's pretty time-consuming and can be very costly," he said.
Officials from Transport Canada declined a request for an interview.