NHL star Jordin Tootoo tours Canada's eastern Arctic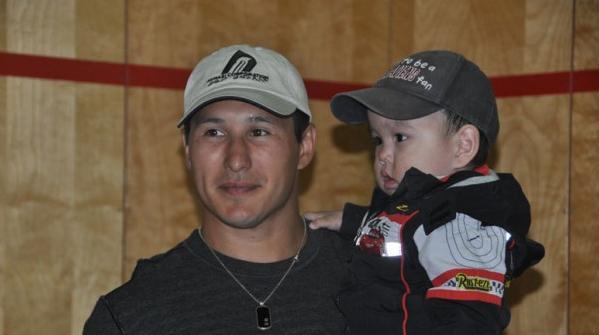 NHL star Jordin Tootoo has wrapped up a short tour of Canada's eastern Arctic territory of Nunavut.
Tootoo met with youth in a number of communities in over the last few days. The tour was organized by the Nunasi group of companies.
Tootoo himself grew up in the Nunavut community of Rankin Inlet.
Aiden Aqpik-Savard, 6, was all smiles meeting Jordin Tootoo in Kimmirut. Both share a passion for the sport.
"My dad learned it and then I was always watching TV and I wanted to play hockey," said Aqpik-Savard.
Aqpik-Savard said getting his idol's photograph was the best day of his life.
Tootoo was only in Kimmirut for a couple of hours but as soon as he got off the plane, fans of all ages wanted photos and autographs.
Tootoo signed everything from hockey sticks, jerseys to rocks.
He said the highlight this summer is visiting with Nunavut youth.
It's been three years since the N-H-L player checked himself into rehab for alcohol abuse.
And 30-year-old Tootoo says he has never felt better.
"There's a lot of people in the Arctic communities that struggle with substance abuse and what not and I think the only way to change that life style is for you to decide that upon yourself"
On Saturday, Tootoo visited the communities of Clyde River and Qikiqtarjuaq, on Sunday, he went to the communities of Cape Dorset and Sanikiluaq.
He even spent time in Nunavut's capital city of Iqaluit on Monday afternoon…signing autographs.
Tootoo has a message for the people he talks to.
"It's about wanting to be a better person and helping each other out," said Tootoo.
Tootoo is going to head home to Detroit with a little piece of Kimmirut to hang in his house in Detroit: a hamlet flag with autographs of future hockey stars — including Aqpik-Savard — to remind him of his roots.