Public access versus commercial exploitation of Sweden's countryside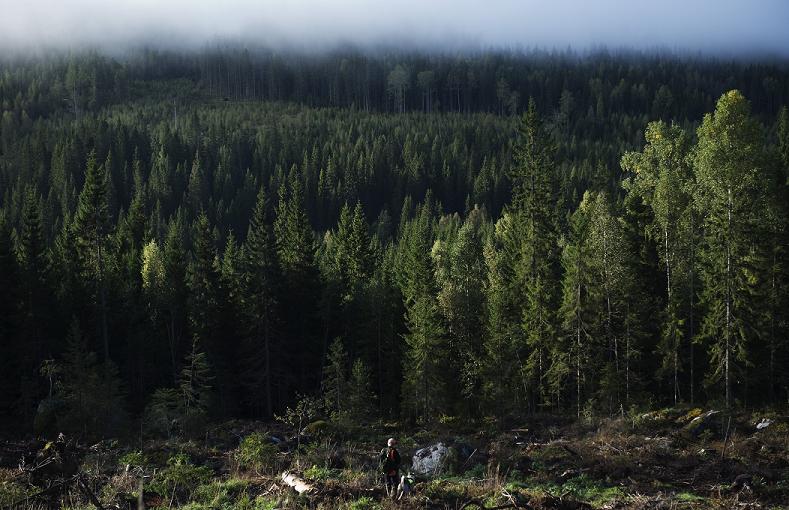 There's concern that the right of public access here is being abused by companies sending dozens of berry pickers onto private land.
The right of public access allows people in Sweden to wander just about anywhere in the countryside, including private property. There are some restrictions. You have to keep your distance from residences, you can't just walk up to someone's house and look in their window. And public access doesn't give you the right to go through a farmer's field and damage the crops.
But otherwise, private land in the countryside is open to hikers, skiers, campers and others who want to be out in nature. Unfortunately, that access seems to be being abused by private companies that now bring in thousands of pickers to harvest berries in the forests during the summer.
After several years of conflict among the berry-pickers, their employers, and the land owners, Center Party MP Staffan Danielsson wants a public discussion of the issue. He says he wants to keep the right of public access in its present form. But to protect the right, he says, it is necessary to do something about the problems. So he is calling for a review, of both the opportunities and the limitations of the right to roam.
With the berry season underway, land owners in northern and central Sweden are concerned about people who come here from other EU countries to pick berries, setting up camps on private land for long periods, littering, and causing damage to sensitive forest environments.
Staffan Danielsson says in cases like that, the police must be able to intervene and remove the people who set up such camps. Today, he says, it takes far too long, and the system is very bureaucratic, involving bringing in the government agency responsible for debt collection, establishing the identity of those involved, and very high costs for the landowners.
Danielsson says having the authorities clear an illegal camp with 50 berry-pickers can cost a landowner SEK 30,000.
The right of public access is enshrined in the Swedish constitution, and the tradition dates back to the Middle Ages. But, back then, no one could imagine massive commercial berry-picking, and Staffan Danielsson says this has changed the rules of the game.
"To keep the right of public access," he says, "it is important that its responsibilities are also respected by those who take advantage of it. And also that the police see that it is respected by quickly responding when a land owner says it isn't working."
In past years there have been many stories of berry-pickers, from both southeast Asia and EU countries in eastern Europe, living under very poor conditions, and with very little pay. This year more than 5000 berry-pickers from Thailand are in Sweden, with contracts guaranteeing minimum pay and organized housing. Staffan Danielsson is asking if citizens of other EU countries who also come here to pick berries shouldn't be offered similar contracts? This, he says, might lessen tensions with the landowners.
"I think it's a very interesting idea," he says, "and worth pursuing."
He's calling for the whole system to be better organized, and would like to see commercial berry-picking banned from privately owned forest land.
But so far the other parties in parliament have not responded, even though Danielsson's Center Party is in the ruling center-right coalition. His motion calling for a government investigation into the issue wasn't even debated in committee.