Nunavut, Canada community to get new high school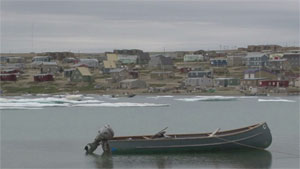 The hamlet of Igloolik, Nunavut, will be getting a new high school that is planned to open in September 2017.
The community with a population of about 1,800 already has two schools but soon they'll be bursting at the seams.
"The community of course has been needing one for quite a while because Igloolik is the most populated community outside of Iqaluit in the Baffin region, and certainly the community is very happy about it," said hamlet councillor Paul Quassa.
Quassa acknowledged the work the District Education Authority put in to lobby for the new school.
Ataguttaaluk Elementary School was built in the late 1960s and is used for students in kindergarten to Grade 7. The existing high school was put up in 1997 but there's not enough room for all the courses and some are held at the elementary school.
"There's definitely a disconnect regarding high school programming in Igloolik for the young people to want to stay in school," said Barry Cornthwaite, manager of capital planning with the Department of Education.
The new school will be built near the current ones to create a campus-like feel.
It will have 12 classrooms along with a library, gym, daycare, repair shop and sewing room. Cornthwaite says consultants will visit Igloolik over the next year to gather residents' feedback.
The design and building contract, valued at almost $2 million, was awarded to Guy Architects and Calnisky Associates.