Promising diamond find in Canada's Northwest Territories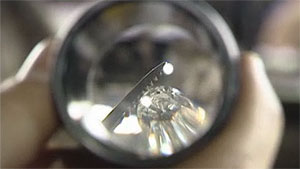 Recent tests on the Kennady Diamonds project in Canada's Northwest Territories (N.W.T.) are yielding some exciting results for the small exploration company.
The Kennady Lake project site is about 280 kilometres northeast of Yellowknife.
The largest diamond found in a recent 1.1 tonne kimberlite ore sample weighed 2.48 carats. Two other large diamonds were found, weighing 0.90 and 0.75 carats respectively.
Also, the total amount of carats in the ore sample was large.
"The results that we announced are the highest diamond grades that have come from any diamond project anywhere in the world," said Patrick Evans, the company's president and CEO.
"Eight and a half carats per tonne is absolutely exceptional."
To put that into perspective, Evans says the richest kimberlite pipe at the Diavik Diamond Mine was 4.5 carats per tonne.
The quality of diamonds found at the Kennady site is also high. Evans said out of the 8,700 micro diamonds recovered only seven were low quality.
About 64 per cent of the diamonds found were classified as white or transparent.
Almost all the white diamonds have either no inclusions or only minor ones.
As for building a mine, "Ultimately it is simply a mathematical equation," said Pierre Leblanc with Canadian Diamond Consultants.
"Take the rough value in the ground and compare that to the cost of extracting the diamonds and bringing them to market, and if the difference is a positive number then they can make a profit out of it."
Evans said while the results are exciting, the sample is small.
The company will likely have to take a 50 tonne sample to confirm just how lucrative the deposit is.
Kennady Diamonds hopes to be able to do that next March.