Dinosaurs: paleontologist puts Alaska on map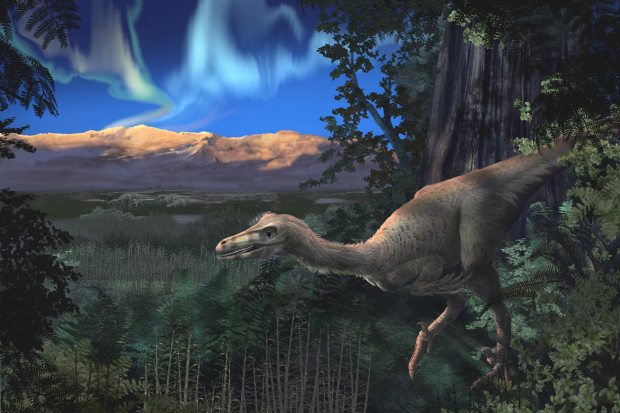 Long before tourists traipsed around Denali National Park there were dinosaurs, thousands of them, including a sickle-toed pack hunter who thrived in winter and big birds that may have migrated north from southern latitudes.
That, anyway, is one picture of prehistoric life in Alaska that's emerging from the work of Tony Fiorillo and colleagues, whose studies of the Cretaceous Age in the Far North are helping rewrite perspectives of the world 70 million years ago.
Just a few decades ago, some scientists considered Alaska a barren icebox too cold to support the stereotypical swampland that dinosaurs needed to survive. But that view has evolved as evidence mounts that Alaska nurtured gobs of the animals year-round.
"They were everywhere up here. They were thriving," said Fiorillo, a curator at the new Perot Museum of Nature and Science in Dallas.
With more than 15 summers spent tromping through the Alaska backcountry, Fiorillo has been at the vanguard of that evolution in thinking. In Alaska, he's discovered a new species of horned dinosaur related to a triceratops, a beast named Pachyrhinosaurus perotorum after billionaire H. Ross and Margot Perot and their family, whose $50 million gift helped fund the museum.
And late last year, Fiorillo unveiled the first complete skeleton of an Alaska dinosaur, a young duck-billed, plant-eating hadrosaur that extends 12 feet from head to tail, in the Dallas museum.
"Alaska's first citizen," Fiorillo joked.
During a recent interview, Fiorillo said he'd just returned from another summer of field work in Denali, finding more evidence to support the "broad ecological reconstruction" he and others are assembling of the high latitudes.
Even though we're feeling the effects of global warming today, the weather was apparently even more comfortable back then. Paul McCarthy, a professor of geology at the University of Alaska Fairbanks, said research shows that a spot on the North Slope — a region farther north than today because of continental drift — averaged more than 40 degrees year-round.
"As we get more refined methods of understanding how dinosaurs lived and what the climate was like, it seems more and more likely it would have been a pretty nice place to be if you were a dinosaur," McCarthy said.
The Arctic wasn't even on the paleontological map until 1960, when footprints of a dinosaur were discovered at Svalbard, on an island midway between Norway and the North Pole.
A search for oil in 1961 would eventually bring Alaska onto the stage. That's when a petroleum geologist for Shell Oil Company chanced across one of the most important dinosaur finds in North America.
Traveling near the Colville River, Robert Liscomb discovered what he thought were the bones of a mammoth. The relics were set aside in storage until the 1980s, when another Shell employee sent them to a paleontologist with the U.S. Geological Survey.
They turned out to be the bones of a hadrosaur. The site where they found, about 15 miles southwest of the village of Nuiqsut, is part of a stretch of river containing more dinosaur bones than any other place in the world.
Denali seems to have been a hot spot, too. Back then the region was less mountainous but far from flat. Dinosaurs likely inhabited lakes and other wet areas in a lowland basin, McCarthy said.
They were numerous, judging from all the tracks that turned to stone.
"Oh my God, this has gone from a simple little project to why didn't other people see this stuff?" said Fiorillo of the group's work in Denali. "We've found literally thousands of dinosaur footprints. Over the last eight years, it's come to be one of the best places on the planet to study this stuff."
Thanks to Denali, McCarthy now has further evidence that pack-hunting troodons — distinguished by two-toed footprints because a long hunting claw obscured a third toe — grew exceptionally large in Alaska compared to those in Asia and the U.S.
Fiorillo suggests that's because the troodon's large eyes — based on its big eye sockets — suited it to winter hunting, allowing it to outperform competitors during polar months when the sun disappeared.
Fiorillo also found ancient bird tracks galore at Denali, including from Magnoavipes denaliensis, a species larger than a whooping crane that Fiorillo and others named in 2011.
Those and other Cretaceous Age birds are found in Asia and the U.S., suggesting that they may have migrated to Alaska for seasonal nesting as they do today.
"If you can understand the paleontology of Alaska, you can understand the dinosaur record of two major continents. That's why this state is so important. And that's why I keep coming back," he said.
Contact Alex DeMarban at alex(at)alaskadispatch.com