Trump administration sought last-minute changes to soften Arctic Council climate-change commitment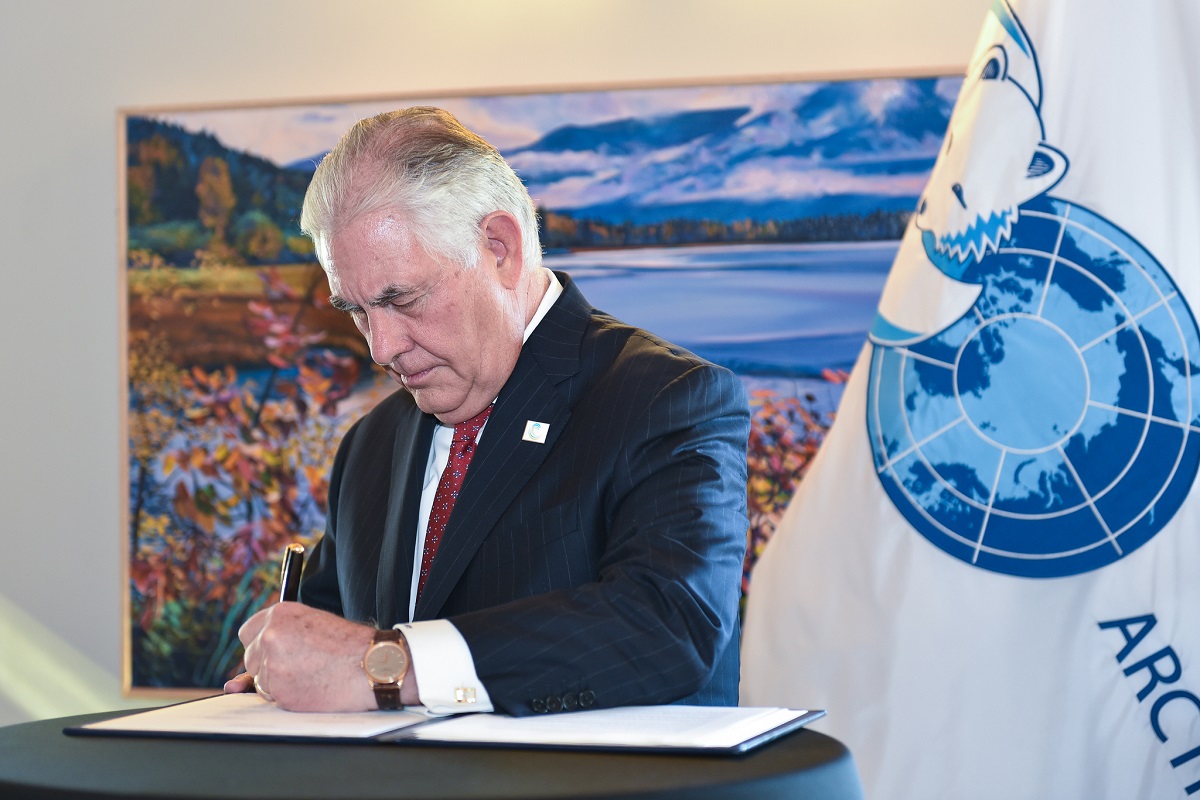 When foreign ministers from all eight Arctic nations signed a declaration this month committing their countries to fighting climate change, they had to reckon with a new U.S. president who has dismissed climate science as a hoax and threatened to pull out of the landmark 2015 Paris agreement on greenhouse gas emissions.
Now details have emerged about how U.S. officials sought to weaken language on climate change and other environmental issues in a declaration issued in Fairbanks this month by the eight-nation Arctic Council.
InsideClimate News, a nonprofit news site, published language changes proposed by the United States for the Arctic Council's declaration issued at the end of its May 11 ministerial meeting in Fairbanks. The U.S. proposed six changes to weaken wording about climate change, greenhouse gas emissions and renewable energy, according to InsideClimate News.
Ultimately, discussion of climate change and an embrace of the Paris agreement remained in the final Fairbanks Declaration. The document was signed by Secretary of State Rex Tillerson and foreign ministers of the other seven Arctic nations — a unanimity required by the consensus-only policy of the Arctic Council.
That was a relief, said Margaret Williams, U.S. Arctic program manager for the World Wildlife Fund, an Arctic Council observer organization.
"I think, in the end, it was a really strong statement," Williams said. "I think there was a lot of very strong language that would be something that everybody would be happy to see — everybody in the climate world."
Last-minute drama
Before it was released, however, the Fairbanks Declaration had to endure last-minute drama and some subtle tweaks that, in spots, might have tempered the message of urgency.
The U.S. objections to strong climate-change language represented an abrupt shift.
Under the Obama administration, climate change was central to the two-year U.S. chairmanship of the Arctic Council, which ended at the May 11 ministerial meeting. Obama demonstrated his commitment to the issue when he made a historic three-day trip to Alaska in 2015 at the start of the chairmanship.
The Obama philosophy appeared to remain temporarily in Arctic Council affairs even after President Donald Trump's inauguration, until as late as March, when the council's senior Arctic officials met in Juneau and produced a nearly completed draft declaration to be signed in Fairbanks.
But right before the Fairbanks ministerial meeting, the U.S. submitted requests for significant changes that would have weakened the document, said officials involved with the Arctic Council.