Finland looking to supply icebreakers to Russia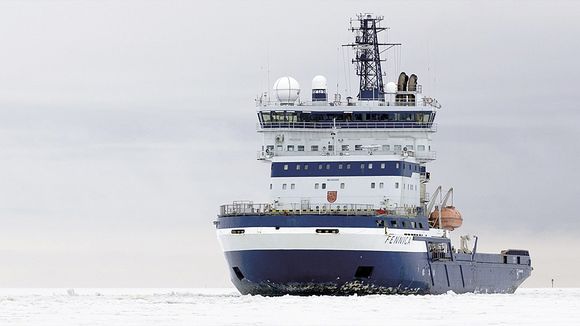 Negotiations are in the final stages between Finland and Russia to supply icebreakers for Russian waters.
An inter- governmental agreement would clear the way for Finnish icebreakers to open up winter routes to locations such as St. Petersburg and the Northeast Passage.
Russia first reached out to Finland for assistance opening up a route in thick winter ice back in 2011. At the time a number of vessels were trapped in the arctic ice and unable to continue on to St. Petersburg. Since that time both sides have been engaged in bilateral talks to allow Finnish icebreakers to operate in Russian territorial waters.
Chief executive of the Finnish icebreaker company Arctia Shipping Tero Vauraste speculated that the Russians could need Finnish expertise in this area roughly every other year.
Senior Adviser Risto Murto of the Ministry of Transport and Communications said that an inter-governmental agreement could be signed as early as this autumn, but that getting the necessary regulations in place could take time.
"Lawmakers in both countries would still have to approve any agreement. At the earliest we would get out on the ice during the winter beginning in 2014," Murto added.
Murto noted that the ongoing negotiations will attempt to thrash out issues such as the conditions under which the icebreakers can be deployed and how quickly they can return to Finland from their overseas postings to respond to domestic needs.
Vauraste estimated that the vessels could enagge in sorties of 1-3 weeks overseas, and could earn hundreds of thousands of euros in the process.
"One essential benefit would be that shipping traffic would flow more easily and that companies wouldn't have to see their investments literally on ice," he noted.
A new growth area for Finland?
The inter-governmental agreement currently under discussion would govern shipping in the Baltic Sea. However Vauraste believes that opening up winter routes in the Northern Passage could be far more lucrative, adding that icebreakers working in this area could pull in up to ten million euros.
"We have the potential to provide ice protection for vessels working in the oil and gas industry," he said.
He noted that Finland could take a strong lead in Arctic expertise.
"Finland has the world's best icebreaker designers, builders and operators as well as oil spill control professionals. We have the chance to create a new Nokia from this," he declared.
Ministry official Murto stressed though that securing Finland's own shipping trade should always take precedence over other Arctic activities. He said that Arctic operations pose risks that could limit the work of icebreakers.
He pointed out that if a ship owned by a Finnish corporation had an oil spill accident, the resulting liabilities could be massive.