Canadian diamond mine uses wind power in Northwest Territories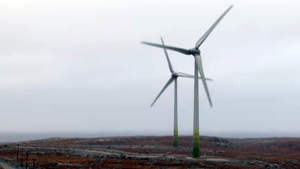 The Diavik Diamond Mine in Canada's Northwest Terriotires is using a wind farm, which was installed about a year ago, to power the site, which reduces the environmental impact of making diamonds.
Last year, the mine spent $31 million installing four wind turbines to harvest electricity at the site. The 100-metre structures were the first wind turbines anywhere in the Northwest Territories. The company is already seeing the benefits.
"[We were bringing in] 70 million to 80 million litres each year over the winter road and we had a full reliance on diesel, which means full exposure to price volatility and environmental hazards," says Liezl van Wyk, the business improvement manager at Diavik.
On a windy day, the four turbines produce enough electricity to cover about half off the mine's needs. That will help reduce costs and limit the mine's environmental impact.
Every year, Diavik trucks in about 1,200 loads worth of fuel, such as diesel, in order to continue operating. The turbines have reduced that by about 100 truckloads — a million litres of fuel during their first six months in operation alone
The turbines are designed to withstand temperatures as low as -40 degrees Celsius, but last winter was one of the coldest on record, and the bitter cold slowed the turbines to a crawl. Engineers then added heaters to warm the blades.
Diavik says the project will pay for itself in about eight years. The hope is to reduce the mine's greenhouse gas emissions by about six per cent annually.
"If you are a new mine or an old mine you should look at it because it's payable and a valuable resource," says Chris Bertoli, the mine's superintendent of electrical and instrumentation.
"The only regret I have is that we didn't do this five years ago."
Related Link:
Diavik mine to build wind turbines, CBC News