Eddie Erasmus elected Tlicho Grand Chief in Canada's Northwest Territories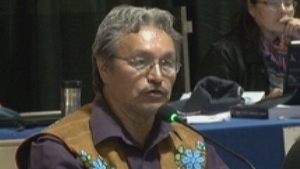 The Tlicho re-elected Eddie Erasmus to serve another four years as Grand Chief Monday night.
Erasmus won the three-person race with 577 votes. James Wah- Shee came in second with 460 followed by George Mackenzie with 443.
Erasmus says he has lots of goals for his next term. "One of the things that I would like to finish is to start having out young people, the youth get involved in the political atmosphere. They are the future they should be more involved," he said.
Erasmus says a key step is building a greater bond between young people and elders. About 65 per cent of eligible voters turned out to the polls.
Six ballots were rejected. Erasmus says there will be an official signing ceremony in the coming days.