Galena, Alaska flooding victim takes charge after FEMA decision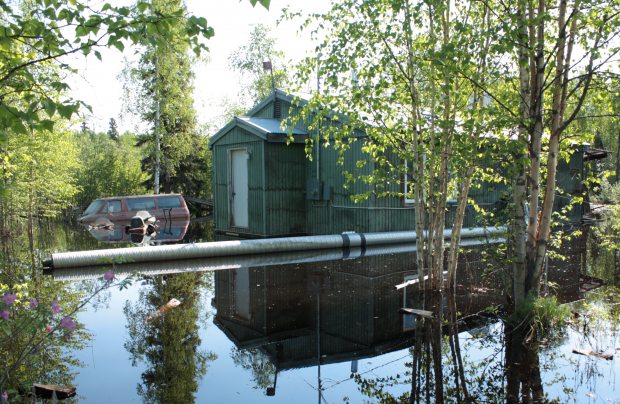 GALENA — The Yukon River flood that nearly wiped out the Interior Alaska community of Galena in May left resident Jennifer Hildebrand's house partially submerged in rank, sewage-laced waters for six weeks.
Months after, when the remaining flood water was finally pumped from behind her home, her troubles seemed to be just beginning as the Federal Emergency Management Agency (FEMA) made a declaration on her home that shocked the flood-struck community.
Despite the opinions of experienced Alaska builders and lifelong community members, Hildebrand's house — which was eventually condemned by Galena's city council — was deemed repairable by the federal agency, which said the destroyed home could be salvaged and lived in once again.
Having chosen to have FEMA purchase and ship building materials for her, the designation meant that Hildebrand would receive supplies to repair a home that was far beyond restoration, rather than the supplies needed to build anew.
Six weeks underwater
The roughly 500 residents of the Interior Alaska community, though no strangers to natural hardships or to spring flooding, were unprepared for the rapid rising of the Yukon River as it crested its banks on May 27 after an ice jam formed downriver and caused water to back up.
Hildebrand, a single mother of two who works at the local health clinic, lives in an area of town called Crow Creek, up a dirt road around a mile from the banks of the Yukon.
"Nobody in a million years thought it was going to flood uptown," she said.
As the water rushed into her home, Hildebrand was able to grab some medicine and a few other essentials and to secure her fuel line. Water climbed up over her rain boots and past her hips in a matter of minutes, leaving her little time to abandon her home.
Flood waters remained elevated for days. Once the flood receded, a depression in the area behind Hildebrand's house became a makeshift lake. Her house, which she inherited from her grandmother in 1996, would remain partially submerged for six weeks.
In late June, workers were fishing barrels and debris out of the lake, while her house sat in water befouled by diesel fuel, sewage and hazardous waste. Although the vast majority of Galena homes were damaged in the flood, Hildebrand's was one of the few that remained submerged — and became a lingering reminder to the community of the havoc wrought by the Yukon.
Hildebrand says she couldn't believe what happened next: In late July, FEMA informed her that the house had been deemed repairable. The contractor who conducted the official evaluation had reported to FEMA that Hildebrand's losses on the home amounted to $34,000, she said.
"You should see the expressions I get when I tell people," Hildebrand laughed.
'No doubt in my mind'
Jack Hebert, president of the Cold Climate Housing Research Center at the University of Alaska Fairbanks was with Hildebrand when she first set eyes on her flood-ravaged home. He said the house was clearly beyond repair. "From 40 years of building in Alaska there was little doubt in my mind" that the house was not salvageable, he said.
"It was obvious that fixing that house for $34,000 while it still sat in that flood plain was not going to happen," he said.
A group from the university later conducted an evaluation of the damages, Hebert said. "(Hildebrand's) house was definitely on their list of houses that needed to be replaced, not repaired."
FEMA declined to comment for this article, citing privacy regulations that the agency says prevent it from commenting on a specific case.
After FEMA's determination, the back-and-forth began. Emails started to roll between Hildebrand and the federal agency while her frustration began to build.
The federal case worker assigned to Hildebrand's case seemed helpless to change anything. "She was supposed to be my voice for FEMA, and nothing was getting done," Hildebrand said.
"I said, you know, 'You go live in that house with your kids and see how you feel.'"
The process became "just a whole slew of paperwork. I ended up tearing down my own house."
Hildebrand had initially chosen direct assistance from FEMA, meaning that the agency would order the materials and supplies for her. In the end, Hildebrand switched her payment method to financial assistance, so that she would get a lump sum deposit, and order her own supplies.
"I took the money and ran," she said. She received the largest payout available from FEMA — $31,900. With that money and a disaster recovery loan from the Small Business Administration, she is financing the reconstruction of her house.
Still, Hildebrand said, the question remains: "Who made the decision to say that my house was repairable?"
But from all the confusion and frustration, a silver lining emerged as the community came together to demolish, and now rebuild, her home.
Into their own hands
"We weren't going to wait anymore," said Galena City Manager Greg Moyer, who was among the 20 or 30 residents who attended the demolition of Hildebrand's home. Frustrations with FEMA were running high during that time, and the demolition was a statement to the federal agency that "look, our community is more resourceful than this, and we're going to take this down."
But first, the city council had to pass a resolution stating that the house was condemned in order to demolish it. The reason listed on the resolution was simple: The house had sat in water for weeks on end. The resolution passed, and the demolition went forward in mid-August.
On demolition day "we started taking it apart piece by piece, window by window," Moyer said. Then Hildebrand got in the excavator and made the first big strike at the source of all her frustrations.
The demolition made an impact on Moyer, who saw it as a way of showing FEMA that the community was in charge of its own needs.
"I will never forget that," Moyer said.
That day also served as a catharsis for Hildebrand, and the realization that the community is watching out for her. What started as a mix of emotions quickly turned to a sense of relief.
"With the support I felt that day, I just felt so much better," she said.
And the support continues as the community and volunteers have banded together to rebuild her home completely free of charge — and before winter hits.
Rise from the flood waters
Interior Alaska's short, vivid burst of summer is fading fast, taking with it the opportunity rebuild homes. This summer, supply deliveries were hindered by Galena's remoteness and the number of river barges available to bring in enough materials to restore an entire community. Residents have blamed FEMA's mismanaged supply chain for the slow trickle of building materials that they say has stunted reconstruction.
Yet Hildebrand's deliveries have begun to arrive, and all the materials are expected to be in Galena by Oct. 1. The Cold Climate Housing Research Center took the lead on ordering the materials for Hildebrand, and along with help from community members and volunteers, the center will get to work rebuilding her new home in mid-October, all for free. Utilizing innovative construction techniques developed by the center, Hebert said the home should be ready about six weeks after the materials arrive.
And the Cold Climate Research Center is squeezing opportunity out of the crisis: Heating oil costs on Hildebrand's new, three-bedroom house are expected to be 75 percent less than the average house in Galena, costing around $900 a year, according to the organization. The center's goal is to rebuild and repair all homes damaged in the flood to a greater level of efficiency.
Builders will be racing against the clock to complete Hildebrand's house before winter, which in Interior Alaska usually settles in during October. But "I know it can be done. This house will get built," Herbert said.
"Let this be the beginning of many successes," he added.
When Hildebrand visited the site of her demolished home last week, her uncle had delivered the pilings, and a co-worker's husband had done some welding on the property. "Things are happening that I don't know about," she laughed. Thanks to her community, the desperation she has felt for months is waning.
Contact Laurel Andrews at laurel(at)alaskadispatch.com