Concern over lack of mental health help in Canada's North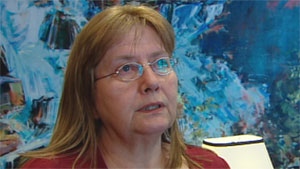 People that provide services to some of the most vulnerable people in Canada's Northwest Territories say more needs to be done to protect the public's safety with more help for mental health issues.
Arlene Hache says mental health resources in the North are nowhere near adequate.
"We have a mental illness and mental health crisis in the north that has been growing and escalating for the last 20 years," says Hache, who has worked at the Centre for Northern Families for over 20 years.
"They are still not prepared to make a real investment to bring that to a halt."
Hache has seen a lot over her two decades working with mental health issues.
"We phoned the hospital and we said this woman was coming up there. We believe she's a danger and please have someone see her and admit her to the hospital," she recalls.
"They refused. Half an hour later she walked downtown — she walked up to some woman and threatened to kill that woman's baby."
Hache says in her experience, mental health professionals often downplay mental health concerns in the North.
As a result, many people with mental illness end up in jail. She'd like to see communities take over services.
Less centralization
Andy Langford is the Director of Social Programs for the territory. He says risks to the public are being managed by the resources that are available.
But he says he agrees with Hache that government needs to hand over more control.
"We've taken a very deliberate step backwards and we've said to communities It's up to you to decide what your priorities are and how you want to address the issues," Langford says.
Langford says the territory is also looking at expanding psychiatric services in the jails andnd some changes are being proposed to improve mental health legislation.