Northern leaders decry violence against aboriginal women in Canada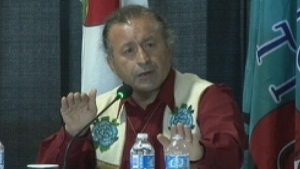 First Nations leaders in the North are criticizing Canada's position on a recent report on violence against aboriginal women.
The United Nations' report calls for a comprehensive national review on the violence, but the federal government is rejecting the idea. It says that kind of work is better suited for local and provincial governments.
Native leaders say that's not the right strategy.
"We need to take on this issue ourselves rather than wait for Canada because the more we wait for Canada, the more control and power and authority we provide to them," says Bill Erasmus, Dene National Chief.
The UN Human Rights Council reviews human rights records in various countries every four years. In 2009, Canada faced similar recommendations to help its aboriginal population.
A UN Special Rapporteur on the rights of indigenous peoples will be in Canada next month to conduct his own inquiry.