Eczema on the rise in Inuit populations in Greenland and Canada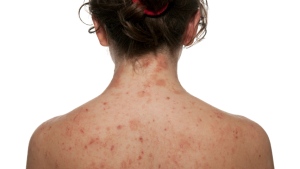 An allergy doctor in Iqaluit, the capital city of Canada's eastern Arctic territory of Nunavut, says he's seeing a spike in the number of allergies such as eczema and others that he's seeing in his patients.
Dr. Antony Ham Pong, who works part-time in Iqaluit and runs an allergy clinic there, says eczema is on the rise in the city. It mainly affects Inuit, he says. And Ham Pong says that could be due to contact with non-Inuit.
He says there's evidence more indigenous people are being born with eczema.
"In Greenland, a study showed there was a doubling of allergies in 20 years in Inuit in Greenland. So it's not just Iqaluit or Nunavut. It's part of the far north and that has to do with the change in our lifestyle," he said.
He added that he's also seeing babies from Nunavut now being born allergic to traditional food such as seal and caribou meat.