What's next after piracy charge for Finnish Greenpeace activist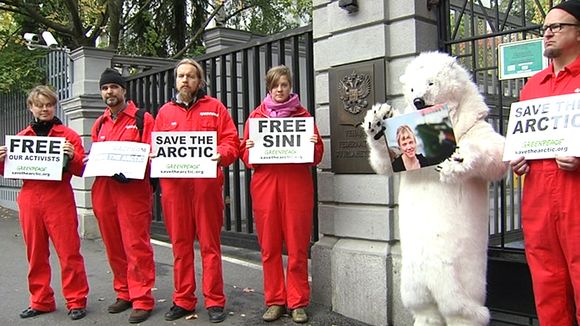 Markku Kivinen, head of Helsinki University's specialist Russian and east European Aleksanteri Institute, has cautioned Finnish politicians to use diplomatic channels and to avoid public comments that might irk Russia in the case of Finnish Greenpeace activist Sini Saarela, who was formally charged with piracy in Murmansk on Wednesday.
Finnish activist Sini Saarela was formally charged with piracy by Russian authorities Wednesday following her detention with a group of Greenpeace activists during a protest in Siberia's Pechora Sea at an oil rig owned by Russian oil giant Gazprom.
Kivinen said that the detention of Finnish activist Sini Saarela was worrying. The Russian news agency Interfax reported Tuesday that Saarela could face a prison sentence of up to 15 years for a piracy charge.
"Russia has a strict criminal code and sentences can be surprisingly harsh. The situation is rather disquieting," Kivinen told Yle.
Gazprom a major influence in Russia
Two weeks ago Greenpeace conservationists tried to board an oil rig operated by the Russian oil giant Gazprom to protest drilling operations in the Arctic. According to Kivinen, the boarding attempt might have been seen as a strike against the heart of Russia, given that Gazprom is a major state energy company.
"More than half of state revenues come from the energy sector, and Gazprom is a major player in the society. Preserving a secure society is central plank of Russian criminal law," the academic added.
The research head said that is difficult to gauge whether or not the government sees the protest as an attack on the state. He said that one positive sign is a statement by President Vladimir Putin that the protest action did not constitute piracy.
"This allows the authorities to take a softer approach. Additionally, Greenpeace has been active in Russia before and those cases have been dealt with lightly," he noted.
Finnish politicians could stir up trouble
Finnish politicians Foreign Minister Erkki Tuomioja, International Development Minister Heidi Hautala and President Sauli Niinistö have all offered public pronouncements on Saarela's case.
According to Kivinen untimely public statements by the political leadership could be damaging, as Russia may see such comments as disruptive and interfering. He called on Finland to use diplomatic channels where possible to assist Saarela.
"It would be worth it to employ strident appeals and displays of sympathy when we know what's coming," Kivinen counseled.