Blog: The innovation imperative in Arctic policy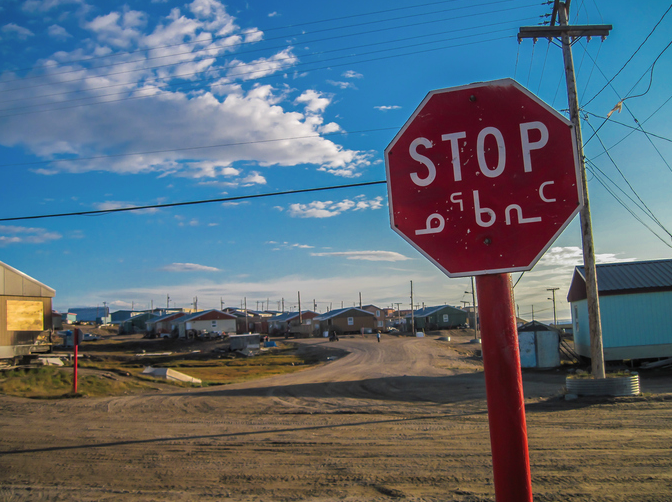 Arctic foreign policy, like public policy in general, goes through phases.  
Our current phase began around 2006 and can perhaps be characterized by a return to realpolitik; preoccupation with resources, competition, and capabilities in the region entered and then dominated high level deliberations on Arctic policy after a good decade of low profile and low politics.  Yes, there was continued emphasis on Indigenous voices and scientific knowledge, and the privileging of cooperation and stability; but these can best be described as having survived the past decade of Arctic foreign policy than defining it.
All of this is by way of saying we are overdue for a refresh. The way most people imagine regional Arctic politics is at any rate tied to a series of events in 2007 and '08 that weren't even representative for the time: there was no impending war with Russia over resources; those resources are still, in most cases, prohibitively expensive to extract; and there is barely a trickle of transpolar shipping, even with the inexorable retreat of sea ice.  More and more, the Arctic matters in relation to climate change policy, but as an object rather than subject; a reason to act but not the place to do it.  
Working Smarter
My great hope and wish is that the next phase of Arctic international policy focuses on innovation.  Innovation is a broad concept, and many things can comfortably fit under its tent.  This is an advantage for the task of creating regional consensus around a policy direction amongst the diverse set of stakeholders that exist in the Arctic region, from local up to national governments; Indigenous organizations; scientific communities; businesses; and NGOs.  
Of course, there has always been innovation in the Arctic.  Surviving the region's extreme conditions has required and enhanced the ingenuity and resilience of its residents.  And the development of innovative governance arrangements in the Circumpolar North in the past five decades, particularly as related to Indigenous peoples' self-determination, has become a model around the world.  
But there is no doubt the Arctic region requires more and different approaches to address its social and economic challenges.  Across the Arctic, and certainly in the Canadian North, the predominant practice has been to import southern processes and materials.  There is now an incredible path dependence on water treatment systems designed for cities; housing designed for temperate suburbs; health care designed for hospitals; and food systems designed for urban grocery stores. Very little of our northern public infrastructure was designed with the North foremost in mind, and the result is an incredible lack of both efficiency and effectiveness.  
That said, if implemented appropriately, southern innovations offer great promise in the North, especially the potential to do everything from education, to health care, to business online, mitigating the impact of the Arctic's vast distances.  Indeed, much of the innovation needed to address the challenges of living off-grid and remote already exists: telehealth, distance learning, dry toilets, highly insulating materials, drones, 3D printing, small grid energy production, greenhouses, grow chambers, and yes I'll say it: blimps.  
One thing that particularly appeals to me about consolidating efforts around innovation is its inherent proactivity as a policy practice.  The past decade of Arctic foreign policy, by contrast, has been reactive: to changes in climate and melting sea ice, to commodity prices, and to external geopolitical events.  
And there is a strong narrative of victimhood and of vulnerability in the Arctic – both as an ecosystem being besieged by climate change and pollution, and as a homeland for Indigenous peoples diminished by the continuing impacts of colonization and now globalization.  Focusing instead on a collective ability to innovate and find solutions to the region's many challenges would be empowering, and enhance Northerner's sense of fate control – defined in the SDWG's Arctic Social Indicators project as "guiding one's destiny", and shown to be a critical indicator of well-being.
A New Hope
"Sustainable development" has been a primary organizing principle in the Arctic for the past twenty years, but from a foreign policy perspective it's been challenging. The principle of subsidiarity, whereby the closest or most local competent authority should make and implement policy decisions, applies particularly well to sustainable development – e.g. education, health and social supports – which are traditionally done at a local, or sometimes, sub-national level.  The context is specific, and funding and policy needs vary widely from jurisdiction to jurisdiction.  This leaves very little room for an intervention or even policy prescription at the regional or foreign policy level.
Innovation, by contrast, would serve the goals of sustainable development, but would actually benefit from a regional and international scope.  The technical challenges imposed by remoteness, sparseness, and cold weather are common across the Arctic. But addressing them from a region-wide basis could create a viable market, and economies of scale so that there is a profit motive associated with developing northern-specific solutions.  A regional Arctic Innovation Strategy could also establish a critical mass, or cluster, of creative thinkers, all attached broadly to the same category of goals, even if geographically they are disperse. (The University of the Arctic's Thematic Networks already work in such a fashion, but are generally composed of only academics and have a primarily theoretical rather than applied research focus). Part of such a strategy would need to be the development of better STEM (science, math, engineering and technology) skills in Northerners, so that they are the ones identifying and leading opportunities for technological development and application.
There has already been a good deal of effort expended in regional Arctic governance structures on innovative solutions to social and economic challenges; the Arctic Council itself has addressed, as long ago as the early 2000s, distance education and telehealth for example.  And the current, U.S., Arctic Council Chairmanship agenda includes the promotion of renewable energy technology, telecommunications infrastructure and water and waste treatment.  But "innovation" is still a peripheral activity in Arctic governance, and the focus continues to be on assessing things, not coordinating them.
The Arctic as a Region of Innovation
Critics may point out that 'Innovation as public policy' will one day be seen as its own phase, in the Arctic as elsewhere, inevitably replaced by some as-yet-unknown catchphrase.  But that doesn't negate its potential, and up to now innovation-promoting policies have been associated almost wholly with urban areas.  We rarely think of the rural North and innovation in the same sentence.
In the wake of the Arctic Council's 20th anniversary, there has been a fair amount of looking back and taking stock of the region's collective accomplishments.  We now conceive of the Arctic as a place that sustains East-West cooperation; that creates space for non-state, and especially local, actors' voices; that precautionarily addresses issues of environmental protection; and that incorporates scientific evidence into its policy shaping structures.   
Imagine if twenty years from now, the Arctic was seen as a place where the combination of culture and technology led to elegant solutions to such problems as food insecurity, housing, and transportation; where long distances and cold temperatures were seen as characteristics, not burdens; and where living in rural and remote regions was seen as a choice and not as a constraint.  Imagine the Arctic as a region of innovation.
Related stories from around the North:
Canada:  Trump's election a cold reality check for Arctic, Blog by Mia Bennett
Denmark:  Obama and Nordic leaders pledge Arctic cooperation, Alaska Dispatch News
Europe: The EU's Arctic policy – A means, not an end, Blog by Heather Exner-Pirot
Finland:  Japan, Finland agree to boost cooperation in the Arctic, The Indpendent Barents Observer
Greenland:  Greenland, Alaska elections bolster Arctic resource extraction, Blog by Mia Bennett
Iceland:  Nordic countries discuss closer defense cooperation, The Independent Barents Observer
Russia:  Russia's Arctic policy up for remake, The Independent Barents Observer
Sweden: Sweden's climate minister worried about Trump's stance on global warming, Radio Sweden
United Kingdom:  The British Invasion – The Arctic Circle and observer states, Blog by Heather Exner-Pirot
United States: Alaska Senate passes bill establishing an official state Arctic policy, Alaska Dispatch News