New blogger on Eye on the Arctic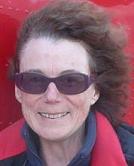 Eye on the Arctic is pleased to introduce a new blogger to our site!
Irene Quaile is an environmental journalist for Deutsche Welle, Germany's international broadcaster.
Since 2007 she's specialized in climate change issues and their effects on the world's polar regions.
Starting today, we'll be posting her Deutsche Welle Ice-Blog on our site. On Ice-Blog, Irene covers everything from science, to green initiatives to climate adaptation.
Check out her most recent blog post here.
We welcome Irene to Eye on the Arctic! And, as always, we welcome your comments and feedback at @eyeonthearctic or arctic@cbc.ca