Fracking protests draw crowds in Northern Canada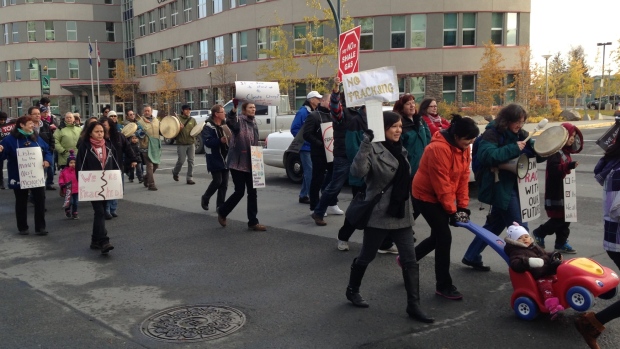 Northerners joined a global protest movement against hydraulic fracturing for oil and gas, with events in Yellowknife and Whitehorse, Canada this weekend.
In Yellowknife, the capital city of Canada's Northwest Territories (N.W.T.), about 75 people attended a Global Frackdown demonstration, marching through the streets of the capital to voice their opposition to hydraulic fracturing — a controversial procedure that involves blasting underground rock with hot water and chemicals in order to extract the oil and gas.
Wider movement
The movement made news this week after more than 40 protesters were arrested near the Elsipogtog First Nation in the Atlantic Canadian province of New Brunswick after an anti-fracking demonstration there turned violent.
By comparison, events in Yellowknife and Whitehorse, the capital of Canada's northwestern Yukon territory, were much more peaceful.
Barb Deakin, who attended the Yellowknife event, said every little bit of awareness helps the cause.
"I believe that it's going to help us, give us more support and then eventually maybe they may listen to us," she said. "But at least we're trying to do something about it, rather than sit and do nothing."
Plans are underway to start fracking in the N.W.T.'s Sahtu region soon, and protesters were eager to show their displeasure with that.
Royal Canadian Mounted Police and by-law officers redirected traffic while participants marched through Yellowknife's downtown.
Young people were front and centre at the event; the march was led by three young girls who held up a "Don't Frack Up Here" sign.
About 30 people attended a similar event in Iqaluit, the capital city of Canada's eastern Arctic territory of Nunavut, and over in Whitehorse, about 100 people demonstrated their opposition to fracking. Fracking isn't currently used anywhere in Yukon, but it's also not banned in the territory.
"There's a lot of people saying this is not good and we really want to investigate anything we do that's going to poison our water forever so hopefully this will bring more awareness and I thing that's the whole objective here," said organizer Don Roberts. "People can let our politicians know this is not a good practice."