Silver lining to stormy warmth: Less chance of Anchorage winter gas shortage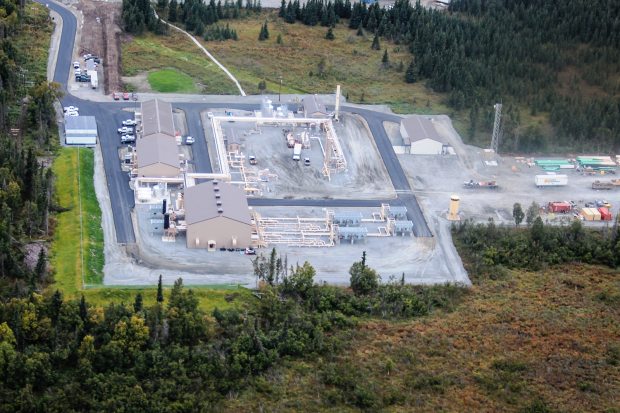 A massive underground warehouse of natural gas — a potential emergency supply to protect Southcentral Alaska from a devastating gas shortage — is stuffed nearly full as utilities brace for soaring wintertime demand.
That is, of course, if winter ever arrives.
Its tardiness — thanks to tropical tempests that have slobbered all over Anchorage lately — have kept thermostats down and the gas in that warehouse close to capacity, meaning more gas might be available if an emergency arises in the months ahead.
Such an emergency could be a system-wide failure in the dead of winter of the sort that nearly happened five years ago, when a compressor clunked out at the Beluga River Unit on the north side of Cook Inlet near the village of Tyonek. ConocoPhillips avoided a crisis by bringing the compressor back to life quickly.
Observers have said a failed compressor or some other interruption in gas transmission could cause Alaska's biggest city to go dark, leaving tens of thousands without heat and power in subzero temperatures.
The best long-term fix is gas from another source beyond Cook Inlet, such as a gas pipeline from the North Slope, they've said. But it's reassuring to know that at least a short-term supply is available from the aptly named Cook Inlet Natural Gas Storage Alaska (CINGSA), a once-producing reservoir where utilities began storing back-up gas for the first time last winter.
Having a potential 11 billion cubic feet of natural gas available in storage helps the utilities ride out the vagaries of fluctuating gas prices. They can buy gas when it's cheap and draw on the reserves when the price of gas rises, providing a flexibility that could help keep utility costs — and customer bills — stable.
But the reservoir could also provide an emergency source of gas during peak demand, especially this year. The warmer fall increases the probability that as the winter drags on, more gas will be available for an emergency, said John Sims, director of business development for Enstar, the natural gas utility for most of Southcentral Alaska.
Enstar, as well Chugach and Municipal Light and Power electric utilities, have pumped 9.3 billion cubic feet of natural gas into the reservoir this year. The utilities each have a share of the available storage.
How much is that? Enough to meet several weeks of demand for heat from some 350,000 Alaska customers, Sims said.
He couldn't say how much back-up capacity was available for the electric utilities. But with the delayed start to winter reducing draws on the supply, it's likely there will be more than enough to help Anchorage survive another bitter winter.
Contact Alex DeMarban at alex(at)alaskadispatch.com