Yukon sets aside 97 hectares for Yukon College
The Yukon Government has set aside 97 hectares for Yukon College.
It has pledged not to develop the land for the next five years.
The chair of the college's board of governors says the college will use the time to develop a land use plan.
"We're continuing to attract a lot of attention from around the country and we obviously need facilities to be able to house these great things that are happening," says Paul Flaherty.
Flaherty says the resource sector is booming, and so is the Northern Institute for Social Justice. "We're finding that we're almost bursting at the seams," he says.
New developments, according to Flaherty, could include new research and faculty facilities, as well as student residences.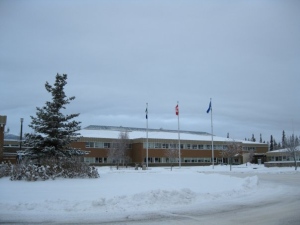 He says the land is a positive step toward to the College, one day, becoming a university.
The land is near McIntyre Creek, which is protected by the City of Whitehorse community plan.
Flaherty says the college will continue to preserve the area in line with that plan. They'll be consulting with government, students and staff to determine just how the land will be used.