Strict security at Facebook's server in Sweden's Far North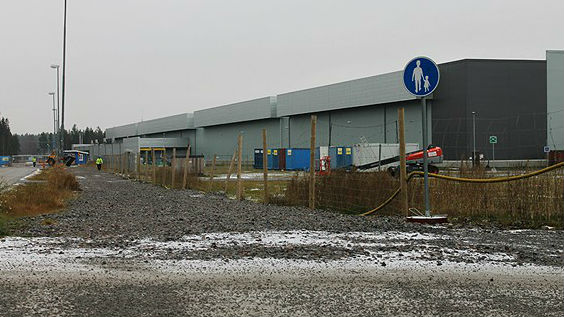 This Spring, Facebook opened its first ever server outside the United States – in the northern Swedish town of Luleå.
That does not mean Swedish police have easy access to Facebook users' information, though. A request to get such information for a criminal investigation was recently declined.
The giant Facebook server hall is made up of four connected buildings that look a bit like window-less sports halls. The gray blocks stand at the edge of a forest in northern Sweden.
But in order to enter the building you need a special permit. And it's not easy to get access to the information that's stored in the server, either.
District prosecutor Jerker Asplund is an IT crimes specialist. He said it can be important for police to be able to get a crime suspect's user information – like chat records or IP addresses. With information like that, police could then secure damning evidence for criminal investigations.
"When it comes to Facebook we're mostly dealing with crimes like unlawful threats and extortion," Asplund told Swedish Radio's P3 station.
Data requests from law enforcement
Several police authorities from around the world have requested data from the social-media company. But the fact that one of its servers is now based in Sweden does not mean police here get any privileges. Instead, they have to turn to the headquarters in the US and then wait for their turn just like everyone else.
"It's not that we want to prevent the police from working faster or more efficiently," said Frida Löwengren, Facebook's spokeswoman in the Nordic region.
"We just think it's important to have a process in place that follows the law," she added. The same rules must apply to everyone.
Löwengren also pointed out that Facebook needs to balance protecting users' privacy with assisting the police.
Even so, in theory, Swedish police could order a search of the Luleå server hall, district prosecutor Asplund said.
But he pointed out that it would be difficult to do so in practice, partly because of the sheer size of the server hall and partly because the police could not be certain that the information they need lies within that specific server.
It would also be unreasonable to launch such a large-scale operation to investigate minor crimes like unlawful threats, he added.
Related Links:
Facebook unveils giant server hall in North Sweden, Radio Sweden