Nunavut NHL player Jordin Tootoo could be headed for minors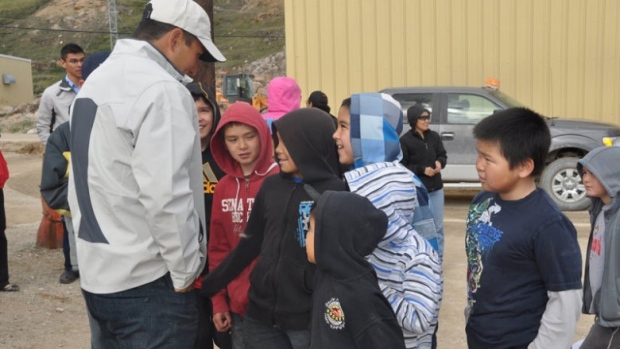 National Hockey League player Jordin Tootoo could be heading to the minors as soon as Friday, since no NHL teams picked him up after he was put on waivers by the Detroit Red Wings last week.
Tootoo, an Inuk from Canada's eastern Arctic territory of Nunavut, signed a three-year contract worth $5.7 million with the Red Wings in July 2012.
Tootoo got into eight fights since he's been on the team. He appeared in only eight games this season and has no points.
Now he could be heading to the minors with the Red Wings' Grand Rapids Griffins.
"Well, I don't feel very good, and for sure Jordin doesn't feel very good," said Barney Tootoo, Jordin's father.
"Like any player put on waivers, I don't think they feel very good. It seems like with the new salary cap that they figure they no longer need him there."
Victim of salary cap?
When Tootoo was drafted by the Nashviille Predators in 2001, he became the first Inuk to join an NHL team.
Tootoo was a fan favourite in Nashville, and in Nunavut, he's a huge star and a role model who travels to communities to talk to kids.
Sports analysts say Tootoo is a victim of the salary cap. At $1.9 million a year, they say he was too expensive to keep on the team, especially with other, stronger players coming off the injury list.
"Unfortunately he was just in a bad situation in Detroit in that they have a slew of right wingers right now between Bertusi, Daniel Alfredsson, Dan Cleary, Samuelson," says Hockey Night in Canada radio host Rob Pizzo, "They just didn't have room for him."
Detroit sport journalists say Tootoo could be heading to the minors by the end of the week, but knowing his character they say he'll fight to get back to the big league.
Related Links: