Storm could cost Sweden's timber industry millions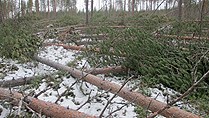 The effects of Storm Hilde on Sweden's timber industry were announced Tuesday, with 3.5 million cubic meters of trees downed a fortnight ago.
The damage could equal out to a loss of SEK 500 million for the industry.
"We underestimated the storm's damage at the onset," said Clas Fries, forest management specialist with the Swedish Forest Agency.
Västerbotten county in northeast Sweden was hardest hit with two-thirds of all trees knocked down. Storm Hilde swept over the northern parts of Sweden on Nov. 16 and 17.
A silver lining to the damage is that Hilde's strong winds primarily affected trees that were not be harvested for up to 50 years from now. That means land owners faired better than if the storm had destroyed trees that were ready to be harvested sooner.
Related Link:
Another storm leaves people without power in Sweden's North, Radio Sweden