Flying uranium from Nunavut scares Saskatchewan Dene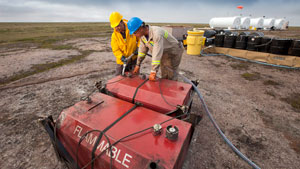 A proposed uranium mine in Canada's eastern Arctic territory of Nunavut is causing concern in the prairie province of Saskatchewan.
The Athabasca Denesuline don't want the uranium moving through — or over — their traditional territory.
At issue is Areva Resources' Kiggavik project near the Nunavut community of Baker Lake.
Areva proposes to fly concentrated uranium from Kiggavik to northern Saskatchewan, then move it from there by truck and train.
In a letter to the Nunavut Impact Review Board, the Athabasca Denesuline say they're worried about possible accidents… and "irreversible destruction" to the environment.
Barry McCallum of Areva says the concerns are overblown.
"Impacts to wildlife would be expected to be low, localized and temporary," he says. "Because spills are relatively easy to clean up. And that's all in the draft environmental impact statement"
Areva plans to fly about 5,000 tonnes of concentrated uranium each year the 8,000 km from Kiggavik to Points North, Saskatchewan, likely using a Hercules C-130 aircraft.
That would average almost one plane load per day.
The Athabasca Denesuline says the flight path would be almost entirely over their traditional territory.
Nobody from the Athabasca Denesuline was available to speak to CBC.
The Kiggavik project is still under review.
Areva hopes to start mining by 2020, at the earliest.
Related Links:
Hunters call for uranium referendum in Nunavut, Canada, CBC News