Alaska fuel companies reach settlement in Nome fuel delivery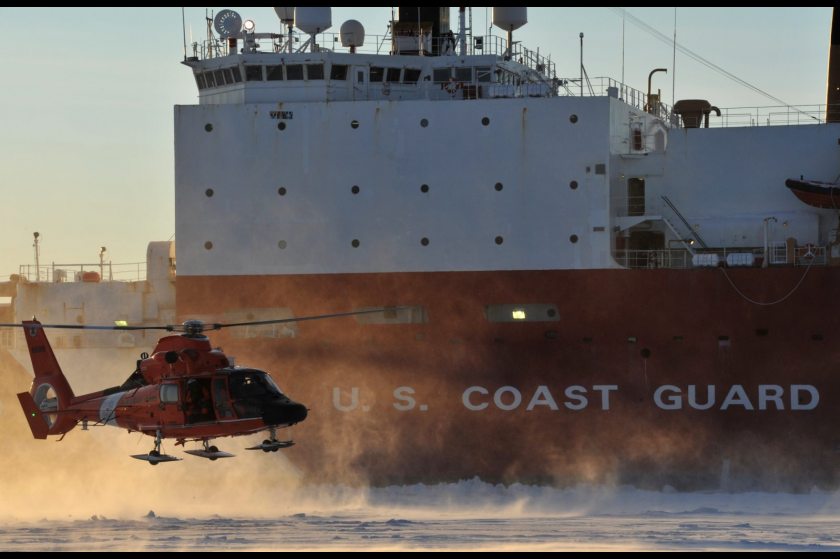 Bulk fuel supplier Delta Western and Nome fuel distributor Bonanza Fuel are ready to settle up, ending a fight about who's to blame for an extraordinary fuel shortage in remote Alaska and subsequent emergency fuel mission that took place in January 2012.
Two years ago, the nation watched as the Russian-flagged ice-class tanker Renda, escorted by the U.S. Coast Guard cutter Healy, cut its way through winter ice in the Bering Sea to reach the Western Alaska port of Nome. While the spectacular, historic journey united many forces across all levels of government to ship the fuel into the isolated city, getting there divided former business associates Delta Western and Bonanza Fuel.
Their dispute over how and why the circumstances got so extreme and who, if anyone, should have to pay soon landed in federal court. The path to resolution has included some interesting revelations about what really went on before and during the mission to deliver fuel.
One insight was that Delta Western wasn't solely hampered by poor weather, as it had led Bonanza to believe when it failed to deliver an expected shipment of fuel to Nome.
Waterways and seas in Alaska ice over during the winter, creating a necessity for barge deliveries to take place before winter sets in, generally by late October at the latest. Bonanza had placed an order with Delta Western for millions of gallons of fuel. It expected the order to be fulfilled in summer and fall shipments. The summer shipment came in. But the fall shipments never showed up, leaving Bonanza 1 million gallons short of the fuel it had projected it would need to meet its customers' demands throughout the winter. By the time Delta Western was ready to send a barge north to Nome, the seasonal deep freeze had already begun, and it was too late.
This left Bonanza Fuel with what it felt were inadequate supplies of "home heating fuel, diesel, or gasoline for the winter and spring."
Court records show a September shipment was rerouted in part due to poor weather. But what Delta Western hadn't told Bonanza was that the company had also chosen to reroute its barge to pick up cargo and fuel for the Red Dog Mine, 300 miles north of Nome, which received shipments from Delta Western in September and October.
A Bonanza employee involved in the fuel logistics later told the court he'd have been much more forceful with Delta Western had he known it had chosen to service a different customer. The employee, Scot Henderson, said he likely would have taken an "Are you crazy? Bring me my fuel!" approach.
The longer the barge waits to head to a city like Nome, the greater the risk that storms or winter ice will impede the journey. Ultimately, Delta Western had said it would consolidate its shipments for Bonanza into a single October delivery — a delivery it never made.
Its defenses against paying any money to Bonanza have included that weather prevented its ability to perform, and also that Bonanza failed to give Delta Western the chance to find a solution. In a series of judgments in September, a federal judge rejected Delta Western's claim that it had no options, since evidence was presented during the case that the company was attempting to find a way to get fuel into Nome even after the ice had set in. So, it couldn't have both been prevented by weather from a solution while at the same time pursuing a solution. Not to mention that the vendor Bonanza turned to for the emergency fuel shipment, Vitus Marine, showed that there was indeed a way to get the job done.
On Jan. 14, 2012, the Renda and its Coast Guard escort arrived in Nome and began the process of offloading some 1.3 million gallons of fuel.
Bonanza has said it's expenses for the unusual icebreaking mission exceeded $1.5 million.
For its part, Delta Western raised its own concerns about the mission. Even though the mission was a success, one of Delta Western's employees testified via affidavit that the Renda was a questionable choice to get the job done.
Don Martin, vice president and general counsel for Delta Western's parent company, North Star Petroleum, brought to the court's attention that he believed even the Coast Guard thought the use of the Renda, an aging ship, was a "bad idea."
The ship had been detained in Anchorage in 2007 for failing a fire fighting inspection. And Martin theorized that the ship's three-year absence from Alaska and the United States was because the Coast Guard had prohibited it from operating here. After it returned to the U.S. in January 2012 and the Nome fuel mission was completed, the Coast Guard cited the Renda for six deficiencies, according to Martin.
Martin also said that an employee with the Alaska Department of Environmental Conservation told him that the Renda would not be approved to operate today unless there were significant improvements.
"Any detention of a vessel is bad, but a detention for firefighting deficiencies aboard a tanker that carries gasoline is very troubling. Many of the Renda's deficiencies are related to firefighting and lifesaving, which in my estimation is a pattern of problematic behavior," Martin wrote in an affidavit.
What comes of any of this — of Delta Western's misrepresentation about why it couldn't make the first fall delivery, of whether the Renda actually posed any unacceptable safety risks, and whether Bonanza could have found a way to work with Delta Western to make things right — may never be publicly known.
A court filing in late December by Delta Western indicates that the two companies have reached a settlement, to be finalized over the next 45 days. The notice contains no details about the terms.
Contact Jill Burke at jill(at)alaskadispatch.com