Alaska's Lt. General Russell Handy on Arctic strategy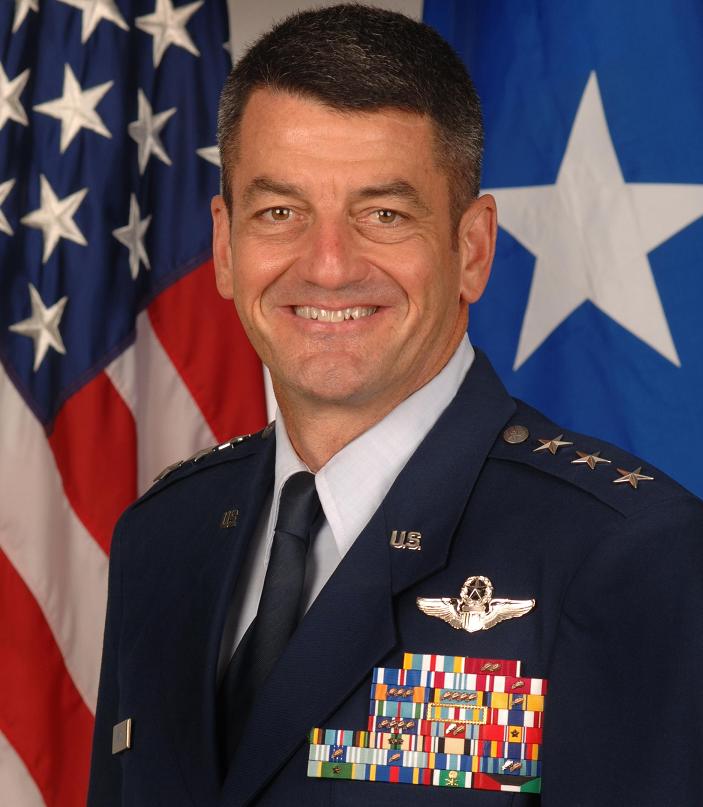 When Defense Secretary Chuck Hagel released the Pentagon's Arctic Strategy document last month, he said rapid change in the Arctic is leading to predictions of a 10-fold increase in vessel traffic for the Northern Sea Route in the coming year.
The Alaskan commander for the state's military, Lt. General Russell Handy is tasked with coordinating and overseeing the implementation of the Arctic Strategy plan.
INTERVIEW with LIEUTENANT RUSSELL HANDY
LIEUTENANT GENERAL HANDY, YOU MENTIONED YOU HAD INPUT IN THE ARCTIC STRATEGY, TALK ABOUT THAT, WHAT KIND OF INPUT WERE YOU ABLE TO INCLUDE IN THIS STRATEGY?
Thanks for inviting me, I'm always excited to talk about the Arctic, it's probably the most exciting if you think about the unknowns for the future, the most opportunity. We were able to have input. The commander of Northern command, General Jacoby, is sort of the executive agent for the Arctic for DOD since the only US territory in the Arctic is in his territory. And so the US portion of that being in Alaska, he's asked us to take a leading role in helping the DOD chart our way forward, so while it was being written, they allowed us to take a look at it and what they wanted to do was to have our perspective, being on the tip of the spear, does this make sense, is it practical.
Are we saying the right things in terms of near term capabilities versus far term? Especially when you start to think about being good stewards of the environment and tribal relations, I think they valued our input on that to make the document good and I think it is a good document.
WERE THERE ELEMENTS OF IT THAT REALLY STAND OUT TO YOU? [Secretary of Defense Chuck] HAGEL OUTLINED EIGHT MAIN POINTS, WERE THERE SOME THAT STAND OUT MORE THAN OTHERS?
Those eight points cover the range of potential department of defense activity in the Arctic fairly well, they start off with the highest priority, to defend our sovereignty, even though we don't see the Arctic as an area of high threat right now, that's got to be the priority for our military forces and then it walks through of course the enablers of that which include public private partnerships, being good stewards of the environment. Supporting civil authorities and natural disasters. Frankly those last couple are the ones that stand out the most right now because those are the ones we're working on actively right now and present real issues today, that could emerge and we'd be required to act on. Clearly we read the entire document but those are the ones that stand out to us right now.
IN THE EIGHT POINTS, MOST SEEM TO BE WHAT WE'D EXPECT – DETECTING THREATS, PROTECTING SOVEREIGNTY, ONE STATED COOPERATION WITH ALASKA NATIVES, WHAT DO YOU ENVISION THAT MAY ENTAIL?
The easy answer is any time we do anything in Alaska, anything, we speak to the Alaska Natives in the area, you can't go anywhere in the state without interacting with Alaska Natives. We have an individual that works on my staff, that's his primary goal to stay engaged and have me interact with Alaska natives so anytime there is an issue, building a facility, or the deep water port study ongoing with state and CG [Coast Guard}, anything like that, you get involved with the Alaska Natives in the area very early in the process.
Frankly it's the right thing to do and it saves time later, because ultimately you have to engage with the natives in the area if you're going to interact with them. That's something we're important to the process because the office of the secretary of defense and northern command are not going to have those day to day relations that we do so we see that as a primary role for Alaska Command.
IS IT TOO EARLY TO ENVISION WHAT THAT MIGHT LOOK LIKE FOR CONSULTATION?
I think it is too early to see in its entirety. I'll give the common military answer, it depends. It really will depend. Secretary Hagel talks about the near, mid and far term potential. He sees the DOD infrastructure in the Arctic as sufficient in the near term, but he speaks to potentially in the far term, we may have to invest in some infrastructure.
In this fiscal environment, you have to be careful that you weigh the potential value of infrastructure investment with the money that you're putting in because there's only going to be so much in the defense budget so he's got some tough decisions to make. But as we make those decisions, as we find this is a good investment and its worthwhile to fit into the overall arctic strategy, then depending on what that is, whether it's a deep water port, or facility on the northern slope for search and rescue, or expanding a runway, I'm making these up as potential areas, those individual pieces of the infrastructure, we will negotiate and speak with the Alaska Natives to see, is this development going to be compatible with your region, your territory. Then we may make a decision to go in a different direction and we'd like to do that early before investing a lot of taxpayer money and so we'll be talking to them from the very beginning.
Consulting Arctic residents
DO YOU ENVISION SETTING UP MEETINGS ALONG THE ARCTIC COAST AND TALK TO PEOPLE ON THE FRONT END OF THIS STRATEGY?
Absolutely and we already do. I conduct a periodic meeting as a matter of course, where we look at issues going on in the state and we bring tribal leaders together and talk to them in general terms. Then any time there's going to be a project the department of defense embarks on, there's going to be some kind of environmental impact analysis that is going to go on. And it's typically very involved, we do an EIS and that EIS involves from the outset working with the local residents. They're going to give us the information we need to determine whether it's compatible with the region and if it is, what steps we need to take to mitigate environmental impact. So it's very carefully legislated, it's very disciplined and that will occur as a requirement before anything occurs in the state.
WHEN YOU SAW [Secretary] HAGEL'S STRATEGY, WERE THERE ELEMENTS THAT STOOD OUT AS MORE CHALLENGING TO ACCOMPLISH? ARE THERE AREAS OF THE ALASKAN ARCTIC THAT ARE OF GREATER CONCERN THAN OTHERS?
I think the biggest challenge is to look into our crystal ball on what our requirements will be. There's not total agreement on the ice melt and the rate at which that is occurring or the impact that's going to have on increased econ development in the Arctic. We're responsible to maintain an awareness of that domain and try to ensure with partnership with the international community freedom of navigation in international waterways in accordance of international norms, but how much of that is there going to be? And then how much infrastructure do you have to put there, if there's going to be a lot of tourism in the Arctic for example, well, we and state and local officials need to be ready for that. If there's some sort of a search and rescue requirement that we over land in Alaska Command or Admiral [Thomas P.] Ostebo in US Coast Guard District 17 over water, we need to have thought through that in advance, so that's the most challenging is envisioning what will the Arctic look like in 20 or 25 years.
ARE THERE ELEMENTS OF THE ARCTIC STRATEGY THAT WILL BE IMPLEMENTED IMMEDIATELY?
There are, in fact there's elements of that strategy that are ongoing right now. Which is why it was so exciting for us to offer input because it allowed us to say, that's a great idea, let us show you what we're already doing. So our team has been conducting many things that you sort of read between the lines in that arctic strategy for some time.
We have a series of working groups, where we bring together public and private partners where we talk about activities that are ongoing. We brought everyone together and we've learned quite a bit, up at the UAF [University of Alaska Fairbanks] for example, nationally, internally recognized as a center of excellence for arctic studies. What's going on in the corporate world up on the northern slope and we're learning many things that we can capitalize on from a defense department perspective from the people who have been doing this for a number of years.
In fact my predecessor signed an MOU [memorandum of understanding] with President Gamble from the University of Alaska that outlined areas that we will partner and we have an active partnership going in everything from arctic awareness, maritime domain awareness, how you might employ remotely piloted vehicles for command and control purposes, so we're actively partnering with them and others.
Drone controversy
AS YOU'RE PROBABLY AWARE, THERE IS A LOT OF CONTROVERSY OVER UNMANNED ARIEL VEHICLES, HOW COULD THAT BE A WAY TO ENHANCE SURVIELLANCE IN THAT AREA?
I think there's tremendous growth opportunity for unmanned aerial vehicles, but we have to carefully look at what, how and who is doing it. There's a big difference between a private corp. looking at their facilities, or UAF doing research or even the CG who has law enforcement authority. Big difference between that and the DOD, a Title 10 activity. As you know we have legislation that protects our citizen from the military doing things that looks like civilian law enforcement.
So we have to be very careful to be sure we're doing it for the right reasons. That said, we're will partner with our public and private partners that we're working with to insure we help each other, the DOD has tremendous capacity in remotely piloted vehicles, we've got a lot of experience with them so we can work together with them or pass on our expertise to those that will use them.
SECRETARY HAGEL SAID THE DOD MUST EVOLVE ITS ARCTIC INFRASTRUCTURE AT "A PACE CONSISTENT WITH CURRENT CONDITIONS". THAT WOULD SEEM TO SUGGEST A NEARLY IMMEDIATE START CONSIDERING HOW QUICKLY THE ARCTIC IS CHANGING AND THE LACK OF FACILITIES THERE NOW. WHERE WOULD THAT INFRASTRUCTURE BE?  KOTZEBUE? BARROW? NOME?
As I indicated earlier, Secretary Hagel did say that but he also emphasized a cautionary note and that is let's be careful and analyze where we need investment so we take taxpayer dollars that we really need when it lines up against other needs. I read in that he is going to be very careful in large scale investment. That said, we can get a lot done with a very small investment with partnering, partnering with UAF, other private organizations, our international partners. I think that's a key area for growth. When you look at the Arctic Council and others that want to be on the Arctic Council, I think that's our center of gravity. You continue to evolve capabilities together. So to do that you need to understand what international norms are and so talking often in forums like the Arctic Council, is important and then working to build those capabilities.
I wouldn't say there's a total lack of infrastructure and equipment. If you look at everything that is in place in the public and private world and with international partners, it might surprise you to know what capabilities does exist or could with a reasonable investment, in the near term to satisfy the DOD strategy. In the far term, the trick will be understanding what the Arctic will look like in 2030. The DOD doesn't build anything quickly. If we're going to field programs we need to look in advance and build a program to be able to fund that and understand where those capabilities need to be in 2025 or 2030 will be the cornerstone to any investment strategy.
Planning in a changing climate
AS WE WERE JUST DISCUSSING, A SENSE OF URGENCY SURROUNDS THE ARCTIC, STUDIES OF CLIMATE CONDITIONS FIND CHANGE HAPPENING FASTER THAN PREDICTED. SECRETARY HAGEL SAID EXPECTATIONS IN THE NORTHERN SEA ROUTE IS 10 FOLD THIS YEAR. YET DOD IS DEALING WITH BUDGET CUTS. WHAT HAVE YOU HEARD ABOUT THE AMOUNT OF FUNDING IT MAY TAKE TO WORK IN THE ARCTIC?
We haven't gotten in to serious discussion of dollars because frankly we're not in total agreement on that 10 fold number. Seems like every time you pick up a paper you read a new prediction of when it will be open. I do think you see cautionary tales in that regard in terms of investment. We do have infrastructure. If you look at our capabilities of our military bases at Eielson, Wainwright and here at JBER, and project from there with our assets. We've got a fairly robust effort from the air perspective. The USCG is actively involved all around the state and the Arctic already. We're watching the deepwater port study the CG and the state is working on. The farther term investment will be incumbent upon where we think the Arctic will be in that longer term.
ALASKA'S SENATORS HAVE ASKED FOR FUNDING FOR ICEBREAKERS, BUT IT WILL BE A DECADE AT LEAST. HOW DO YOU SEE THIS IMPACTING THE NEED FOR PATROLLING THE ARCTIC AND RESPONDING TO DISASTERS?
You're right. Icebreakers are not a near-term project. You've probably heard discussions between the Navy and the CG on analysis whether they should program for an increase in that population. The icebreakers we have, we've used in Greenland and Antarctica. As my former job I was the commander of the military support services for the NSF in Antarctica. And the year I was down there we used an icebreaker contracted from Russia. It worked out wonderfully. We've employed contract icebreakers in Greenland as well. Working with our international partners is a way forward for ice breakers. But investment in a US flagged ice breaker will be a long term decision.
ALASKA DOESN'T CURRENTLY HAVE ANY REAL NAVY PRESENCE. UNDER THIS PLAN, WHO WOULD THAT CHANGE IN THE NEXT DECADE?
I think you'd be surprised if you looked, if you were able to examine off our shores, how much Navy presence we actually do have, so the Navy does patrol in these waters and a number of training events, ice X and they take a submarine and work on experimental things. One scheduled this year may be cut but that's a regular occurrence. They also do a number of activities in the Gulf of Alaska and off our shores. Although we don't have port presence, they do train and exercise regularly off the coast of Alaska and I would see that continuing. I don't know if there would be an expansion of that, certainly the Navy, like all of the services are juggling resource constraints, but they are involved. 
DO YOU THINK IN THE NEXT 50 YEARS THERE COULD BE A NAVY BASE IN ALASKA?
That decision, I'll let the US Navy address, and as good as they are, they'd be hard pressed to talk about what will happen in 50 years, but I think anything is possible. I think it all hinges on what happens in the Arctic in the next 10 to 20 to 30 years. Certainly 50 years is a long way off. We know they have a presence here already. Any sort of permanent basing is going to be based on their analysis of how hard it is to continue to project up here versus basing forces.
ALASKA IS CONSIDERED A GREAT PLACE FOR MILITARY TRAINING. WHAT KIND OF GROWTH IN TRAINING EXERCISES CAN ALASKANS EXPECT TO SEE IN THE NEXT 5 TO 10 YEARS?
As you know, we have the wonderful national resource in the J Park, the Joint Pacific Alaska Range Complex. All of our military services train together with many international partners on, we do the red flag series which I know you've heard about and others. One area where you're going to see a notable increase and we already have, as our army forces in US Army Alaska come back from regular deployments to the middle east, as we reduce our land components in the Middle East. They are actively jumping back in to their arctic skills which have atrophied a bit, over the years, based upon our many years of military activity in the Middle East.
[Russian President] VLADIMIR PUTIN RECENTLY TOLD A DEFENSE MINISTRY MEETING, HIS QUOTE WAS, "NEXT YEAR WE HAVE TO COMPLETE THE FORMATION OF NEW LARGE UNITS AND MILITARY DIVERSIONS IN THE ARCTIC THAT REMAIN ON CONSTANT COMBAT ALERT." THIS SEEMS TO BE IN RESPONSE TO CANADA STAKING A CLAIM TO THE NORTH POLE. RUSSIA HAS ALREADY MADE A SIMILAR CLAIM A FEW YEARS BACK. HOW CONCERNING IS THIS FOR ALASKA?
Well in some respects it's concerning because I think it depends on precisely what Russia means by combat alert and exercising of sovereignty. I think it's important that we all defend our national sovereignty and we defend our national interest and certainly there are large portions of Russian national sovereign territory in the Arctic as is Canada and the United States and we should all be very proud of our ability to defend our sovereignty. When that extends into international waterways and international airspace, I think that's where we need to come back to the table and have a conversation and insure we all have a common understanding of international norms.
That said, we exercise regularly with the Russians. In fact, just a couple of months ago, completed an exercise that was based around a potential hijacking of a civilian airliner in Russian territory that comes over now into US territory and we had Americans in Russia participating and Russians in my command center participating in that exercise.
So we regularly have events. We're talking actively to them about a more in depth involvement in combined search and rescue activity because it's such a large region, no one country will be able to be close enough to this entire region. So what we want to do is have a common understanding of how we're going to respond if we have a disaster or an overturned ship or downed aircraft in the Arctic so we can help each other. So that statement by President Putin being said, I think there is an awful lot of collaboration ongoing that doesn't make the press. We work regularly with the Russians and we want to continue to work with them and other international partners.
THE COAST GUARD IS NOW UNDER HOMELAND SECURITY. IT'S NO LONGER UNDER THE DEPARTMENT OF DEFENSE. HOW DOES THIS AFFECT BOTH YOUR WORK AND THE CG WORK IN BEING ABLE TO GET THINGS DONE?  DOES IT MAKE IT MORE DIFFICULT OR HOW DOES THAT WORK?
So the Coast Guard was formerly under the Department of Transportation and so now they are under DHS, the Department of Homeland Security and it might be counterintuitive but it's actually a good thing.  It's a very synergistic relationship, because they have authorities that we don't and vice versa. They operate under a different title of the US code where they have law enforcement authorities and so because of the things they're tasked to do by the department of Homeland Security, they have more leverage and leeway to do those kinds of activities where the department of defense can't, based on legislation.
So, I'm, as the 11th Air Force commander, I'm delegated the SAR, search and rescue coordinator responsibilities for the land mass of Alaska. Admiral Ostebo is delegated that responsibility over water and we support each other. Because he has some robust capabilities over land and we have some robust capabilities projected from the air over the water, so we work together on what forces are the best and where they're most available through our search and rescue coordination centers.
But I think it is a very healthy relationship and the fact that we operate under, in different departments of the US Government under different titles of the US Code, is actually a synergistic effect rather than a hindrance.
THE US HAS NOT RATIFIED THE LAW OF THE SEA TREATY. HOW DIFFICULT WILL THIS MAKE YOUR WORK IN THE ARCTIC?
I'm not a legal expert on the Law of the Sea; my assessment now is that it will have little to no impact. We're essentially complying with all of the portions of that without having it ratified, so practically, in day-to-day operations it has no impact to me. From a political perspective on whether or not we ratify, I'll let our political leadership speak to that piece. Frankly I don't know how big an impact that will be, but operationally, right now it has no impact to me at all.
THE EIGHT ARCTIC NATIONS – CANADA, DENMARK, RUSSIA, ICELAND, NORWAY, FINLAND, SWEDEN AND THE US – COMPRISE THE VOTING BLOCK  ON THE ARCTIC COUNCIL. A BODY SECRETARY HAGEL MENTIONED MORE THAN ONCE IN THE DOCUMENT. OTHER NATIONS, CHINA FOR ONE, ARE PUSHING FOR SEATS ON THE ARCTIC COUNCIL AS THE WORLD EYES THE RESOURCES IN THE ARCTIC. HOW IMPORTANT IS THE ARCTIC COUNCIL IN PARTNERING IN WORK IN THE ARCTIC?
As I said, I think the Arctic Council and organizations like the Arctic Council that support it, are our center of gravity. The ability to sit down at the table together and collaborate as international partners will be the absolute key to our successful operations in the Arctic. As far as China goes, clearly our nation is very interested in an increased involvement on a global scale. We're very closely tied to China in every aspect of our national economy and our national interests. I won't speak for the Arctic Council on China's participation in it, but certainly we're always looking for opportunities to more closely engage and operate with China.
MULTILATERAL TRAINING TO ENHANCE COLD WEATHER OPERATIONAL EXPERIENCE. WILL THIS POTENTIALLY TAP THE KNOWLEDGE RESOURCE OF THE PEOPLE WHO HAVE NOT ONLY SURVIVED BUT THRIVED IN THE EXTREME CONDITIONS OF THE ARCTIC. HAS THOUGHT BEEN PUT INTO WHAT THE COASTAL NATIVE POPULATION COULD TEACH IN THIS REGARD?
We have put some thought in that and as I say, every time we meet with Alaska Natives that live in a particular region of the state, we learn something about what they do and how we can interact better with them. So I believe the answer to that is yes, I think we're going to continue to learn from those who have been living and working in this state for generations and I mentioned University of Alaska Fairbanks and frankly, UAF is a very good connection for us in that environment because they understand that better than probably any other one institution in the state so as we move forward in our relationship with UAF, they're also able to pass on some of that knowledge that we can effectively use.
Related Links: 
Canada: Stephen Harper and the North Pole – Still embarrassing Canadians in Arctic policy, Blog by Heather Exner-Pirot
Denmark: Denmark's Strategy for the Arctic, Blog by Mia Bennett
United States: U.S. Department of Defense releases nation's Arctic strategy, Alaska Dispatch