Restoring the Tagish role in the Klondike gold rush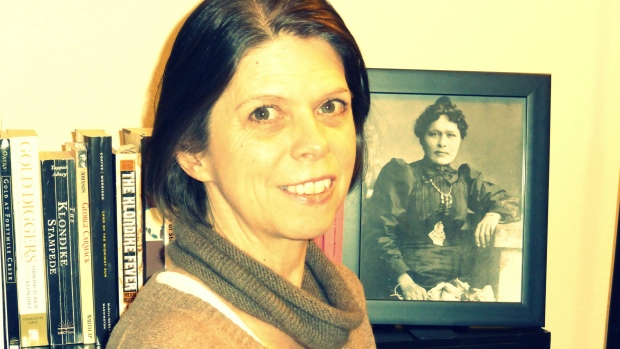 An author from Anchorage, Alaska is getting set to release a new biography that restores the reputation of some of the key Yukon players in the Klondike Gold Rush.
Deb Vanasse's Wealth Woman: Kate Carmack and the Last Great Race for Gold will be published sometime in 2014.
It documents the life of Kate Carmack, a member of the Tagish First Nation in the Yukon, who was born Shaaw Tlaa and became, at one point, the richest First Nations woman in the world.
"In the end, she got $500, a gold necklace and a gold watch," Vanasse says.
Kate was the sister of Skookum Jim and the aunt of Dawson Charlie, two other Tagish people who played a crucial role in the discovery of gold the late 19th century. Kate became the wife of George Carmack after his first wife, her sister, died in 1886.
Ten years later, the gold rush was on.
History credits the wrong man: Vanasse
In the classic discovery story, George Carmack, Skookum Jim, and Dawson Charlie find gold at Bonanza Creek after getting a tip from prospector Robert Henderson.
Deceiving his companions, Carmack then staked the discovery claim, and his place in history.
But Vanasse says the true discovery story played out differently, with Skookum Jim spotting the gold.
"They were looking for fresh meat when Jim shot a moose," Vanasse says. "In the process of washing up or cleaning the meat — it's a little bit unclear — he discovered some large colour in Rabbit Creek."
Kate and George worked the claim at Bonanza Creek for several years before returning to George's ranch in California in 1898. Eventually, George abandoned Kate there.
Kate Carmack misrepresented in history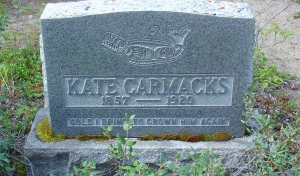 George went on to remarry, perhaps illegally, while Kate filed several lawsuits seeking to regain her husband and her fortune.
Some histories have used those lawsuits to paint her in a negative light, but Vanasse shows that it's unclear whether Kate understood what she was doing at the time.
Meanwhile, George had hired a spy to watch her in California, to see if she might do something that would allow him to disown her and not leave her anything.
"She wound up with virtually nothing, but her integrity, which I think meant a lot."
Kate eventually returned to Yukon where she died in 1920.
Vanasse spent two-and-a-half-years sorting through new sources for the book.
It wasn't easy, especially given the fact that Kate couldn't read or write, and left no written documents of her own.
Vanasse says she hopes these stories will offer a new perspective on First Nation's involvement in gold rush history, and give one Yukon family credit where it's due.
Related Link: