Alaska aims to reduce road kills with annual moose hunt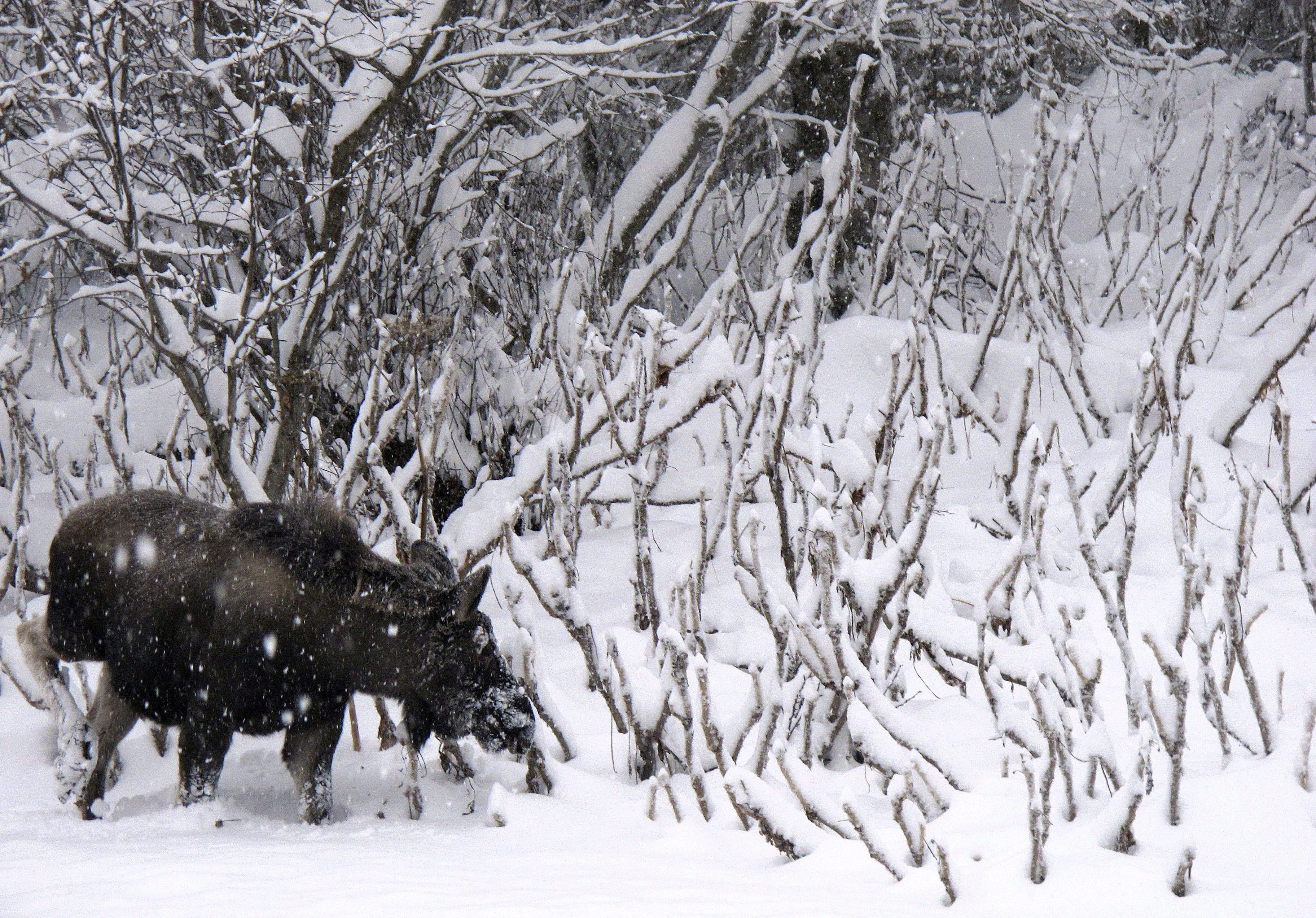 In an effort to keep drivers safe, the Alaska Department of Fish and Game is once again opening a targeted moose hunt near major roadways in the Matanuska Valley.
Starting Jan. 6, eight hunters a week will get a chance to hunt moose in specific areas in the Matanuska-Susitna Borough that have a high density of the animals in areas close to major roadways.
It's the third year for the hunt, which was established by the Board of Game to clear the high density of "nuisance" moose that congregate near the Parks and Glenn Highways in Mat-Su. The hunt is scheduled through March 30 and includes areas in Palmer and Wasilla, to as far east as Chickaloon and north to Talkeetna.
High speed collisions with the animals — which can weigh more than 1,000 pounds — are not uncommon and at times can be fatal for drivers. In years past, the hunt has had up to a 75 percent success rate. Todd Rinaldi, Mat-Su area biologist with the Alaska Department of Fish and Game, said that's because of the high density of moose in the area.
Rules of hunt
Still, Rinaldi said the hunt is far from easy, due to the challenge of the locations, which can be tricky to navigate based on their close proximity to the road. Despite the nature of the hunt, hunters are not allowed to shoot on or across the road.
Rinaldi said the hunt was established in 2011 after a particularly high snowfall year that left more moose than normal congregating close to the roadways. He said moose generally migrate down to lower parts of the Valley from higher elevations because they find it easier to move through shallow snow and have easier access to foraging opportunities. Rinaldi said moose often stick close to roadways and trails because they create travel corridors for the animals.
But with that comes a greater chance for moose-vehicle collisions. The Department of Fish and Game reports an average of 280 moose killed in vehicle collisions in the Mat-Su each year, though Rinaldi said that's probably conservative and doesn't take into account moose that are hit but don't cause enough damage to get reported.
Moose salvage program
Alaska State Troopers operate a moose salvage program through which Alaskans can sign up to collect moose meat from animals killed in vehicle collisions. The number of moose salvaged from the program last year was not immediately available Thursday afternoon, according to Trooper Spokeswoman Megan Peters.
For this year's moose hunt, 300 permits will be issued between the two wildlife management units. Last year, 198 permits were issued and 148 moose were harvested.
While it's hard for Rinaldi to say whether the hunts are reducing the number of collisions (he said it will take more time to compile the data), so far, he's confident it's making the roads just a little bit safer.
"Our assumption is some those moose are the ones that might have ended up on someone's bumper," he said.
Contact Suzanna Caldwell at suzanna@alaskadispatch.com or on Google+
Related Links: 
Canada: 'Moose die-off' not seen in Canada's Yukon, CBC News
Finland: Animals cause five separate rail accidents in Arctic Finland, Yle News
Sweden: Family of moose attack schoolboy in Sweden, Radio Sweden