Ice-road construction reaches new levels in Arctic Alaska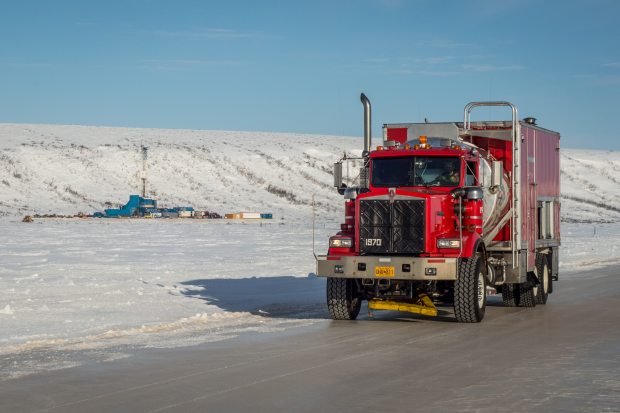 Hundreds of miles of ice and snow roads are built from scratch every winter across the unforgiving Arctic wilderness, a frozen backcountry infrastructure that makes the iced-over Dalton Highway on Ice Road Truckers seem like a 98-pound weakling.
And then, the roads vanish each spring.
Built by vehicles outfitted with track wheels and balloon tires to prevent damage to the fragile tundra, the crystallized corridors may have reached a record high this season.
The state has approved 377 miles of such roads, the most in at least eight years, when the state began keeping more accurate records, said Melissa Head, in charge of the three-person Northern Oil and Gas Team that manages the roads for the state.
Last year, 329 miles of ice and snow roads were approved on state land, the second-highest amount in the eight-year period. The totals also include airstrips built from ice, as well as ice pads for drilling.
North Slope oil and gas development in the past was more concentrated, meaning the amount of snow and ice roads being constructed today may be at record levels, said Dave Cruz, a longtime builder of the ice roads who owns Cruz Construction in Anchorage.
Ice roads vs. snow roads
Ice roads are burlier than snow roads. Costing $80,000 a mile to build, they support drilling rigs weighing 2 million pounds and stretch 35 feet across at their widest, 11 feet wider than a standard two-lane highway. They cross rivers and are coated with at least six inches of ice, sometimes much more when the ground dips.
"It's got to be good solid blue-ice construction," said Cruz, not the oxygenated and weaker white ice.
Snow roads are basically glorified trails and handle much smaller loads. They're made each fall by vehicles designed to protect the tundra – such as the Pisten Bully snowcats you might see on ski slopes. The rigs continually pack and repack the snow until it can be traveled on.
Once the ice-and-snow roads are built, they require constant maintenance to remove snow drifts and keep them in driving shape.
"We're not just slapping these things down," said Cruz. "We have and miles and miles of roads that in summer you can't even tell where they've been. If you construct them right, they just melt away and there is no reference that you were ever there."
More oilfield activity
Cruz, a vocal supporter of cutting oil taxes in Alaska, said the increase in the roads this winter is proof that Senate Bill 21 — passed last year — has led to more oilfield activity. The controversial law took effect on Jan. 1 and is expected to lower taxes on oil companies by hundreds of millions of dollars annually. A referendum to repeal the law will appear on the August ballot.
But the projects on tap this winter have long been in the works. The big boost comes primarily from Exxon Mobil's gas-cycling enterprise at Point Thompson, the result of an out-of-court agreement made two years ago between the state and the oil giant. After decades of stalled activity, Exxon Mobil agreed to pursue initial production of 10,000 barrels of natural gas condensate that will be counted as new oil flowing down the pipeline.
Exxon has received approval for 132 miles of ice roads at Point Thompson this winter, compared to just 57 miles last year. The roads include a 77-mile supply road for the remote project in northeastern Alaska and a 22-mile route needed to build a proposed pipeline.
Two projects have received or will receive ice roads this year that didn't have them last year. The work needed to receive state and federal permitting for those projects has been underway for years. Spain's Repsol has already built an ice road for its Tuttu development this winter. And ConocoPhillips is expected to seek and receive state approval for a 12-mile ice road at its Shark Tooth development at Kuparuk.
Snow roads underway
The two longest roads being built this winter are snow roads, 75 miles long on state land, with another 25 miles on federal land. Both extend from the Dalton Highway west to Umiat — about 200 miles southeast of Barrow. Those snow roads were built last year as well.
Marsh Creek needs its snow road as part of a remediation project to clean up old military waste at Umiat, where the U.S. Navy set up camp during World War II to explore the National Petroleum Reserve-Alaska for oil.
At Umiat, a pool of oil that may yield up to 50,000 barrels daily lies in wait. Linc Energy is going after it. As it did last year, the company received state approval to build the other long snow road.
Snow roads can handle loads up to about 100,000 pounds, said Ron Wilson, president of Doyon Drilling, which provides companies with drilling rigs. The roads make for slow going. Large rigs, such as Doyon's Arctic Fox, must be broken down for travel on the snowy route, requiring dozens of trips.
"And that's just the rig," Wilson said. "That doesn't include the mud products, the down-hole tools, other company camps, the water you're hauling. You're talking hundreds and hundreds of loads."
Ice road construction
Building an ice road is somewhat like building an asphalt road, with an underlay of crushed aggregate. But in this case, the aggregate is crushed ice instead of rocks, said Cruz.
Water from tundra lakes is then pumped into the mix to bind the chips together, creating a corridor that's initially as smooth as an ice rink and requires scarring to give it traction. Drawing water from lakes requires state permits, too, to protect fish. Screens make sure those fish aren't sucked near the pump, he said.
Oil company workers monitor the roads to make sure no one is speeding, said Cruz.
"If you're going 50 or 60 mph, you'll end up going around a corner," he said. "I like to see 25 mph. And when you're crossing a river, they'll have you knocked down to 5 mph."
There's none of the overblown drama you'll find on the TV program "Ice Road Truckers," which has featured the Dalton Highway. It really isn't an ice road, though it is coated with ice to smooth it out and fill in potholes.
"The companies are dead serious about safety," he said. "If someone causes an accident with a fuel truck, you just damaged the environment."
Contact Alex DeMarban at alex(at)alaskadispatch.com
Related Links:
Canada: Driving on the ice road in Canada's Northwest Territories (Video), Eye on the Arctic