Iqaluit, Nunavut assesses damage after unprecedented windstorm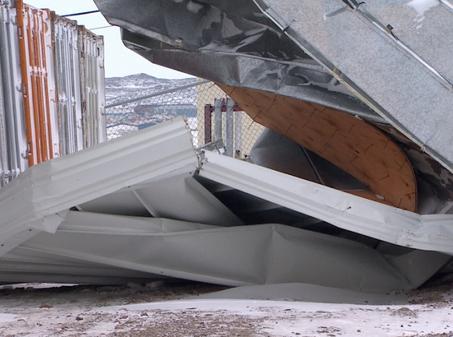 Residents in Iqaluit in Canada's eastern Arctic territory of Nunavut faced a storm close to hurricane strength Tuesday night, but there were no injuries and no major damage reported.
The storm was huge, even by Arctic standards, with many people saying they'd never seen anything like it.
When visibility improved around noon today, stairs had been ripped from buildings, roofs had been damaged, windows smashed, cars and doors buried – even stop signs took a toll.
Two people were taken to hospital after being exposed to high levels of carbon monoxide. Both were OK.
At least one telephone pole blew over, its lines hanging dangerously close to a home.
"We called and reported it and someone checked it in the night and said it was all right," said Bert Rose. "We were ready to go — we had our suitcases out, but there was no need to go. The power came back on and we just said well OK we'll go back to bed and see what happens this morning."
Paul Aukaut said he and others in the elders' residence weathered the storm as the power flickered off and on.
"We were relaxed and having fun," Aukaut said.
Iqaluit Mayor John Graham said he took a page out of Environment Canada's "hurricane preparation" book.
"They advise people to have enough bottled water, canned foods and batteries for radio, because for the first 72 hours, an event can be yours and yours alone."
Related Link:
Canada: Massive windstorm lashes Iqaluit, Nunavut, CBC News