Arctic ice growing slower than average so far this winter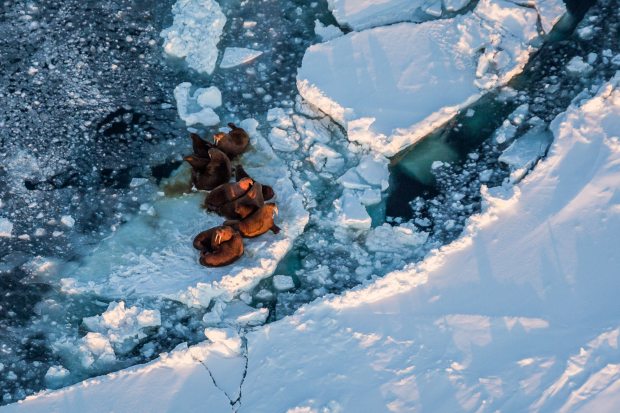 Sea ice in the Arctic Ocean grew slowly over the past month, giving December the fourth-lowest coverage in 36 years of satellite records, according to the National Snow and Ice Data Center.
Areas of the Arctic Ocean with at least 15 percent ice — the center's definition for ice coverage — totaled 4.78 million square miles in December, some 270,300 square miles below the average measured in the years between 1981 and 2010, the Boulder-based ice center said.
The relatively slow ice growth – with young and thin ice forming up – might be setting up conditions for a big summer melt, said NSIDC Director Mark Serreze.
"When we move to the end of the ice-growth season, which is right around the middle of March, it's very likely that we're going to be starting off on the wrong foot," Serreze said Tuesday. "The ice is going to be fairly thin, so it's going to be relatively easy to melt out."
Exactly why December's ice growth was slower than average is unknown, he said. Air temperatures above most of the Arctic Ocean were warmer than normal, and weather was especially warm over eastern Siberia, though colder than normal over northern North America.
Overall, December weather patterns in the Arctic were unremarkable, Serreze said. "There was nothing last month in the Arctic that I would call particularly interesting," he said.
Yet to be determined is whether sea-ice levels set up the more remarkable polar vortex impacts earlier this month, when portions of the eastern and central United States were plunged into a deep freeze while Scandinavia, Siberia and northern Europe baked.
There is a "lot of talk," debate and argument about whether reduced Arctic sea ice caused the polar-vortex phenomenon that chilled population centers in the United States, Serreze said. Some studies are using climate models to predict changes in winter weather patterns, while other studies are relying on direct observations that scientists say demonstrate some of the impacts, he said.
"I'm not convinced," Serreze said. "It's a very important question, but it's very controversial right now."
The clearest impacts of reduced ice coverage come during late summer and fall, when ice shrinks to its annual minimum. The long-term trend toward smaller seasonal ice minimums has been much more dramatic than the short-term trend, Serreze said.
Compared to the December ice-coverage shrinkage of about 3.5 percent per decade since 1978, ice coverage in September has been declining at a whopping 12 percent per decade, Serreze said. The resulting large expanses of dark-colored, heat-absorbing, moisture-emitting open water that are created each fall can alter weather that season, he said.
Arctic ice coverage reached its lowest-measured extent in September 2012, when it shrank to 1.32 million square miles, a level 18 percent lower than the previous record, set in 2007, according to the center.
Though summer sea ice rebounded in 2013, there remains a long-term trend toward less ice and more open water in summer and fall seasons, Serreze said.
Contact Yereth Rosen at yereth(at)alaskadispatch.com
Related Links:
Canada: Changing Sea Ice: Nunavut Ice Monitoring, Eye on the Arctic
Greenland: VIDEO – Changing Sea Ice: The Ripple Effect, Eye on the Arctic
United States: Arctic sea ice changes begin affecting vegetation on land, Alaska Public Radio Network