Dynamite shakes ice dams on Finland river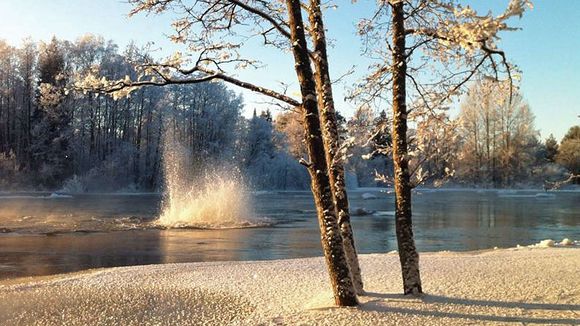 On the lower reaches of the River Kymi in south-eastern Finland, authorities have detonated some hundreds of blasts of dynamite this week.
The aim is to break up potentially dangerous ice dams formed by bitterly cold weather.
"Six hundred blasts and 150 kilos of dynamite since Sunday," says Pekka Kinnunen, a senior chargeman with the Southeast Finland Centre for Economic Development, Transport and the Environment (ELY).
The ice jam has already raised the water level by than more than half a metre above normal. The situation has now calmed at the Langinkoski rapids near Kotka, where ice dams were blown up on Tuesday. Langinkoski is the site of a fishing lodge built for Russian Tsar Alexander III in the 1880s, which is now a museum.
By Wednesday the main mass of ice had moved to Siikakoski, also within Kotka city limits.
"The water level has eased so there's no crisis here," says Kinnunen. "We have set off explosions at some individual ice jams in Huumanhaara."
The legendary winter of '87
An ice dam typically forms after snow and ice begin to build up around a large rock. Dynamiting is intended to break up the formation, freeing its sections to float downstream. Otherwise the waters can suddenly burst over the riverbanks, potentially causing serious floods.
"They end up in pools in the stream and break up on their way down the river. The worst dams on the River Kymi formed in 1987. Then there were a lot of us out here working every day for two months. It got down to -39 degrees Celsius, and we must have used 4,000 kilos of dynamite," recalls the master blaster.