Alaska battle heats up as years of oil decline predicted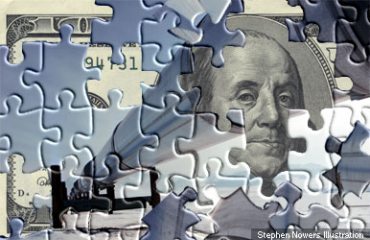 With a new state forecast showing Alaska oil production falling to unprecedented lows in the coming decade, Democrats are calling on Gov. Sean Parnell to concede that his multibillion-dollar tax break — primarily benefiting BP, ConocoPhillips and Exxon Mobil Corp. — will produce less oil than the old tax system it replaced.
But the governor, who once set a goal of getting 1 million barrels flowing daily through the pipeline in a decade, isn't backing down. His office says he'll concede nothing because the tax cut that became effective Jan. 1 is already working by sparking billions of dollars in new investment in Alaska.
What will that investment lead to? That's a critical question because revenue from oil production — currently flowing at about 550,000 barrels each day — pays for most state services. More production, perhaps a lot of it, will be needed to close the massive budget deficits the state now faces.
So far, estimates of new oil to come won't make much of a dent in the falling production Alaska has experienced for two decades. But state officials say their forecasts are now more cautious than in the past, and they are being careful not to count uncertain projects.
Old production forecasts were "wrong in a bad, bad way," said Bruce Tangeman, Parnell's deputy commissioner for the Revenue Department. The goal now, he said, is to set a conservative line and to beat it.
Blasting the governor
One conservative estimate in particular — showing production below 300,000 barrels a day in a decade — has provided fodder for the attacks, including from gubernatorial challenger Bill Walker, a Republican running against Parnell as an independent.
Parnell is misleading the public about his 1-million-barrel "promise," said Walker, in a campaign salvo sent to reporters Thursday.
The governor "claims" to have been counting on development by Royal Dutch Shell in the U.S. Arctic Ocean, Walker said. But Parnell isn't telling Alaskans that such development would have brought the state no tax revenue from production, Walker said.
"Alaskans are being misled by Parnell's desperate attempts to explain why Senate Bill 21 is not working and why we are in the untenable position of deficit spending with no relief in sight," Walker said.
The Parnell campaign did not reply to a request for a comment on Friday. The administration has noted that production from federal lands is part of the million-barrel goal.
Also, Parnell never promised 1 million barrels, said Tangeman, who has said that critics of the goal are taking the governor's words out of context.
"It was a goal, not a promise," Tangeman said.
Record low oil production forecast
Prompting the recent attacks is an updated 10-year forecast released by the Office of Management and Budget, the office that advances the governor's budget priorities.
The most conservative forecast, presented to lawmakers in Juneau early last week, showed daily oil production falling for each of the next 10 years, reaching what would be a record low of 286,000 barrels in 2024.
A second, more optimistic forecast presented by the governor's budget office, one that received less attention, showed the state producing 351,000 barrels of oil in a decade, or 65,000 barrels more than the more conservative forecast.
When the forecasts came before the House Finance Committee last week, co-chair Rep. Alan Austerman of Kodiak, seemed miffed.
"That doesn't jive with the work done with Senate Bill 21, which was supposed to increase production," said Austerman, who voted for the tax cut last spring on reconsideration, after initially opposing it.
Neither forecast will do much to help a state that even at current production levels faces deficits ranging from $1 billion to $2 billion a year.
Rep. Les Gara and Sen. Hollis French, Democrats representing Anchorage districts, have attacked the conservative forecast, saying it calls for an even steeper decline in production than was predicted under the previous tax system, said
For example, before the tax cut, the state estimated daily production of 344,000 barrels in 2022. Now, North Slope production that year is estimated to be 340,000 barrels.
French called the governor's million-barrel goal a "mirage." Gara called it an erroneous sound bite.
Oil consultants hired by the Parnell administration during last year's tax-cut debate never told lawmakers that oil production would fall by almost half in 10 years, after the oil producers received a tax break worth more than $10 billion, said Gara.
"I do remember rosy 'aspirations' by Commissioner Dan Sullivan and the governor of four times that much oil," said Gara in a release.
Fending off criticism
The attacks over the million-barrel goal have prompted a top Republican lawmaker and a key state official to deflect criticism stemming from the lofty objective.
Parnell established his million-barrel goal at a rally before business leaders in 2011, calling it "audacious" but completely doable as he urged listeners to get behind the tax cut.
To get to 1 million barrels, the state would have to cut taxes for oil producers, reduce regulatory hurdles and increase access to potential oil fields, Parnell said at the time.
He said he would call on the federal government to open its oil-bearing lands to development. Parnell has done that, including by pressing the Interior Department to allow exploratory drilling in the Arctic National Wildlife Refuge. Like more than 10 other attempts to open the refuge by members of the state's congressional delegation, that effort has failed.
Parnell has also urged development in the U.S. Arctic Ocean, but federal regulators and missteps by Shell have made that an increasingly remote possibility, too.
Finally, the administration has fought for drilling in the National Petroleum Reserve-Alaska. Conoco hopes to develop a field, called CD-5, that might initially produce 16,000 barrels per day in late 2015.
Flash forward to 2014. In a press conference in Juneau last week, Sen. Pete Micciche, R-Soldotna, said "the million-barrel thing never entered into the discussion last year."
"We talked about stemming the decline," said Micciche, a ConocoPhillips employee who is superintendent of the liquefied natural gas plant in Nikiski. "We talked about hopefully enjoying somewhat of an incline."
In fact, the million-barrel goal wasn't out of the picture last session. It came up during a Senate Resources Committee hearing last February, when vice-chair Fred Dyson of Eagle River noted the state couldn't count on a lot of new oil until Shell was successful developing the Beaufort Sea. With only little fields to rely on, the state would be lucky just to flatten the declining curve of production, said Dyson, who voted for the tax cut.
Dan Sullivan, the former commissioner of Natural Resources and a Republican primary candidate for U.S. Senate, said at the meeting that the 1 million barrel goal was "very ambitious" but an important vision people could strive for.
He noted that reaching the goal could require offshore, shale development or other new developments. He added that he'd call 700,000 daily barrels a success, too.
Speaking recently before the Resource Development Council, Tangeman said Parnell set the million-barrel goal with the North Slope's enormous resource potential in mind.
Parnell wanted people to know that the increased oil production seen in other basins around the world should also happen in Alaska, Tangeman said. Doing that meant improving the state's tax regime and getting out of the way so private industry could boost production.
Hopefully, the declining curve of production from the North Slope will begin to flatten, Tangeman said during his talk. "You bring on a rig, a couple new rigs, and you're looking at 60, 80, 90 thousand barrels a day more. Then you are on your way to a positive number."
Asked after the meeting to explain what fields the new oil would come from, or when, Tangeman referred the question to the state's oil producers.
Estimates of new oil limited
The producers aren't making bold predictions for more oil production. But they say the tax cut has encouraged them to boost their investment in the oil patch. Some of the projects they tout were in the works before the tax cut passed.
ConocoPhillips has estimated it could add 55,000 barrels of new North Slope production by 2018. That extra oil would come from the new CD-5 project, a new drill site in the Kuparuk River field, a new production site on federal lands in the National Petroleum Reserve-Alaska, and from two new drill rigs Conoco added to its operations, according to an Alaska Journal of Commerce article.
BP says it is reviving or launching new projects on the Slope, including adding two new drilling rigs, one in 2015 and another in 2016. A top official with BP has said the company "can't stop the decline," but it "can substantially change the inflection" on the declining curve. The London-based energy giant has not put a figure on how much oil the two additional rigs will produce. But BP is working with partners ConocoPhillips and Exxon Mobil to assess possible development at the western end of Prudhoe Bay. If the project is sanctioned next year, oil might flow in four years, with peak production of 40,000 daily barrels coming in eight years, BP said.
Exxon Mobil, meanwhile, is pursuing a plan at Point Thomson field on the eastern edge of the North Slope oil patch. Exxon Mobil sat on its leases there for decades, refusing to develop at the site. The state revoked those leases in 2006, setting up a court battle. The new plan — based on an out-of-court settlement between the state and Exxon Mobil — calls for adding the equivalent of 10,000 barrels of oil to the state's production count. One day, perhaps, that production could grow to 70,000 daily barrels, but who knows if that will happen.
There's also Spanish oil company Repsol, which has not provided an estimate of new oil production. But the company is drilling three new wells this winter with three rigs, said Sarah Erkmann, with the Alaska Oil and Gas Association.
Combined, the estimates of new production will do little to resurrect North Slope oil production. Perhaps they'll "soften" the oil-production decline, something that BP's top official in Alaska, Janet Weiss, recently said is happening at BP-operated fields, though she did not provide details on the number of new barrels produced.
And perhaps something big and unexpected awaits Alaska. State officials have said they're optimistic that production will increase more than they've forecast.
Tangeman said past forecasts were too rosy and were based on projects that didn't happen. The overestimates encouraged false expectations of future growth.
One glaring overestimate came under the old tax system, when the state said production would flatten out in 2011 at about 700,000 barrels of oil per day, then inch upward, according to a chart presented by Tangeman.
That didn't happen, he said. "Actually, what we saw was a significant decline, because when (oil) prices spiked" oil companies put their investments into other basins around the world, Tangeman said.
Parnell has also referred questions about new production to the oil producers. He is also bullish on Alaska's future oil and gas prospects, according to an emailed statement from his office. The statement said he's hopeful the federal government will work with the state to allow development on federal lands and in the U.S. Arctic Ocean.
"It's been less than a year since the governor signed the More Alaska Production Act into law yet billions of dollars in new investment are already flowing into Alaska," the statement said. "The only concession to be made is that the More Alaska Production Act is working."
Reporter Pat Forgey contributed to this article. Contact Alex DeMarban at alex(at)alaskadispatch.com
Related Links:
Canada: Oil and gas consultations in Canada's eastern Arctic next week, CBC News
Greenland: Statoil awarded exploration licence off Greenland, Eye on the Arctic
Norway: Oil, Industry and Arctic Sustainability, Deutsche Welle's Ice-Blog
Russia:  Russia sees Wrangel Island oil and gas potential; Greenpeace eyes an eastern Arctic front, Alaska Dispatch
United States: Shell calls off 2014 oil exploration in Arctic Alaska, Alaska Dispatch