Endangered whale meat shipped from Iceland via Halifax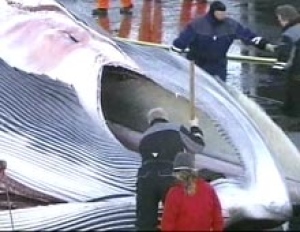 Environmentalists are pushing for stricter trade laws in Canada involving at-risk species after the recent shipment of fin whale meat across the country.
Greenpeace Canada says the meat recently arrived in Halifax from Iceland and travelled by train across the country enroute to Japan.
Environment Canada confirms it inspected a shipment of whale meat in Halifax during the last week of January and allowed the shipment to proceed because the fin whale is not recognized as an at-risk species in Japan and Iceland.
The fin whale is on the list of endangered species under an international convention.
Sarah King of Greenpeace says the Canadian government has committed to protect endangered species, and must adopt stricter measures to ensure similar shipments are prohibited.
Iceland stopped commercial whaling in 1986 and scientific whaling in 1989. It resumed scientific whaling in 2003.
Fin whales are among the largest whales in the world, growing to an average length of between 18.5 metres and 20 metres and weighing about 70 tonnes.
-With files from CBC News
Related Links:
Finland: Finland creates sanctuaries for endangered seals, Yle News
Sweden: Debate over whether eel is endangered in Sweden, Radio Sweden
United States:  Endangered North Pacific whales may receive stricter U.S. protection, Alaska Dispatch