Adventurer plans 80-day solo trek from Nunavut to Greenland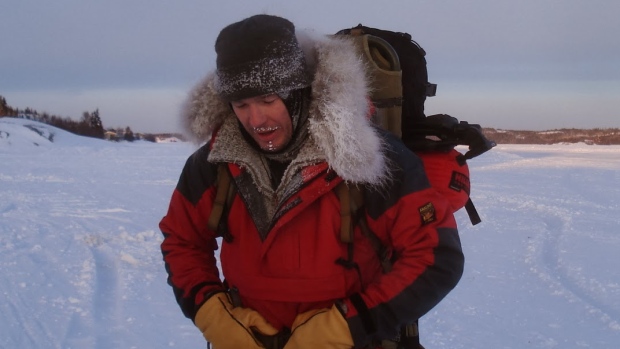 An adventurer plans to spend 80 days travelling from Kugaaruk, Nunavut, to Qaanaaq, Greenland, by ski and snowshoe in an effort to break the world record for the longest unsupported, unassisted Arctic journey.
Vincent Cochin will be filming himself during his journey for a documentary called "Into the Midnight Sun."
Josephine Anderson will be directing the film, along with Tavi Parusel. She says the film will look at Cochin's physical and personal journey, as well as his efforts to connect with the Inuit way of life.
"Where the geography is so beautiful or stunning that … it goes beyond words. In those places in the film we're hoping to bring in some of the myths and stories that inform that atmosphere," she said.
At the moment, Cochin is living with a host family in Kugaaruk and preparing to begin his journey. Once filming wraps up in the summer, Anderson and Parusel will begin the task of editing his footage into a documentary.
"We're looking to have the film go through the film festival circuit internationally during 2015," Anderson said.
"Following that we're looking to do a community screening tour, where we would provide the film to community groups all across Canada, in small towns, in big towns. Anywhere where people have an interest in seeing the film, we'll provide it to them."
While Cochin is an experienced adventurer, Anderson says this trip will come with added challenges.
"A lot of folks will try extreme journeys in groups, which makes a lot of sense," she said. "I definitely think it's a unique thing to have the courage to try to do something like this alone and to know that if you get into trouble, it's just you out there."
The biggest challenges Cochin expects to face are environmental, including recognizing thin ice and being on the lookout for polar bears.
Anderson says there were also financial hurdles to clear, as Cochin does not have a large sponsor for the project. In fact, Cochin spent several months working as a landscaper in France so that he could pay for the gear and equipment needed for the trip.
When he finishes his journey, Anderson said Cochin hopes to spend some time living in Greenland.