Norwegian contingent prepared for Iditarod challenge
Teams are making their way into Rainy Pass as they head trough the Alaska Range. It's arguably the toughest stretch of trail.
Many say they're ready for the challenge, including a contingent of Norwegians who are in Alaska to find out how their dog teams fare on this side of the world.
The Iditarod has been called the Super Bowl of mushing. That's how Yvonne Dabakk describes her run to Nome.
"It's a musher's paradise! You've got to check it out," Dabakk said. "We were here in 2001 and we were at the ceremonial start and we were like 'this is kind of cool, maybe we should run this one day,' so we went home and we bred dogs and we came."
Dabakk was surprised to find out she's not the only Norwegian driving a team in this year's Iditarod.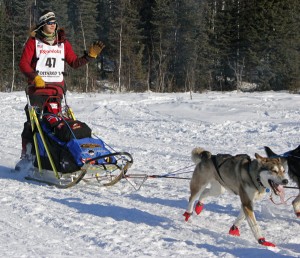 "You know they're all just following after us. We had planned this for a while. Suddenly we hear Robert [Sorlie] is going to come back and then Ralph [Johannessen] was like 'I'm going to go over,' and then we heard our friend Tommy [Jordbrudal] was going to stay here for 10 months and that's cool!" Dabakk said.
Of the five Norwegian teams, at least two may prove very competitive, including last year's Rookie of the Year, Joar Lleifseth Ulsom.
"It's a good team and they've all done a thousand mile race now and lots of other races so they have a lot of experience, so they know what to do and they know how to rest and don't get too excited about things so I think if things fall together we can have a good run," he said.
Ulsom is not much for words. He's tall, shy and quiet, which might be to his advantage as he tries to navigate his way past two-time champion Robert Sorlie.
"To win the Iditarod is not easy," he said. "You have to have no accidents. Everything has to go fine all the way."
Sorlie says he doesn't start a race if he doesn't intend to win. It's different for Tommy Jorbrudal though. He brought seven dogs from Norway simply so they could get to know the trail.
"You just can't do enough travelling with your dogs and because it's such a good atmosphere and the distance that we're going to do, it's just all aspects of it are just totally fascinating," Sorlie said.
Much like his Norwegian compatriots, he plans to return to the race again for a more competitive effort after he gets a rookie run under his belt.
-By Emily Schwing, KUAC – Fairbanks