In topsy-turvy 'polar vortex' winter, ice sparse in Arctic, abundant in Great Lakes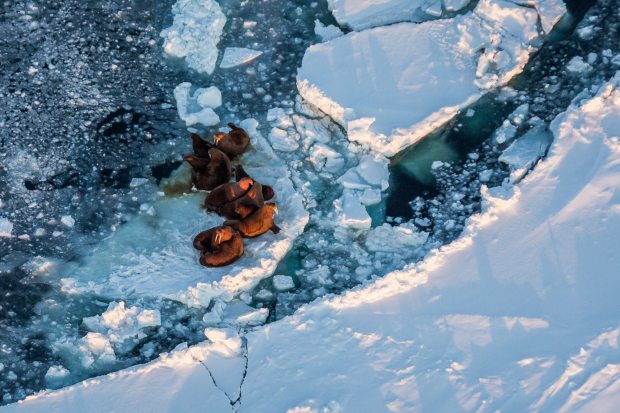 Looking for solid sea ice? Head south, not north.
Even as spring approaches, the Great Lakes continue to have nearly complete ice coverage. The entire U.S. Midwest has been gripped this winter by extreme cold sent south by the now-notorious polar vortex, and its effects are clear on those huge lakes. As of Thursday, 85.6 percent of the Great Lakes' surface was covered by ice, showing a slight melting from this winter's peak of 92.19 percent, according to the National Oceanic and Atmospheric Administration's Great Lakes Environmental Research Laboratory.
This year's maximum Great Lakes ice coverage barely missed the record 94.7 percent level attained in 1979. But it was well above the long-term average of 51.4 percent, calculated over the past four decades from detailed records kept by the laboratory.
Latest ice data
In the Arctic, however, ice looks a bit feeble, according to the latest information from the National Snow and Ice Data Center in Boulder, Colo. February's coverage of Arctic ice was the fourth-lowest since satellite records began in 1979, the National Snow and Ice Data Center said in its latest monthly update. The month continued a long-term trend of February ice shrinkage averaging 3 percent per decade, the center reported.
Total ice coverage dipped slightly in February — a month during which ice usually grows — though it has since rebounded and is expected to reach its annual peak by the end of this month. The center blamed faltering ice expansion on warm conditions and temperatures "distinctly higher than average."
The Bering Sea off the coast of northern Alaska is one of the sites with poor ice coverage, as Iditarod mushers trying to navigate over Norton Sound at the end of the 950-mile trail to Nome discovered this week. Bering Sea ice is dominated by thin, seasonal freeze-up that's sensitive to temperature and wind, and this year's winter growth has been below average, the center reports. That contrasts sharply with the Bering Sea ice conditions of recent years, which has been persistent with a much greater ice extent than normal. Even in 2012, a year of record-low Arctic ice coverage, Bering Sea ice was so stubbornly persistent into spring and summer that it interfered with commercial fishing and oil exploration activities.
Unusual weather conditions
The lack of ice — and lack of snow cover in much of Alaska — was part of the topsy-turvy winter afflicting all of North America, the director of the snow and ice center said on Friday.
"The unusual snow conditions in Alaska, the unusual winter warmth, as well as the fairly mild ice conditions seen in the Bering Sea (compared to other recent years) are all connected to the unusual atmospheric circulation pattern that has affected North America as a whole," National Snow and Ice Data Center Director Mark Serreze said in an email. The eastern United States had cold and snowy conditions, thanks to "a strong and very persistent southward excursion of the polar vortex," he said. But when the polar vortex ventures south in one part of the northern hemisphere, warm southern air usually moves north, "and this is what we were seeing all over western North America including parts of Alaska," he said.
Yet unknown is whether regional weather extremes, such as those experienced this winter, will become more frequent, and scientists are debating some controversial theories about that question, he said in the email.
Right now in the Bering Sea, the latest data from the National Weather Service's Sea Ice Program shows ice moving southeast, following the winds, with more movement expected as new low-pressure systems arrive.
Overall, Bering Sea ice coverage this year is more like a typical year in the past, said Kathleen Cole, the ice program's leader. It seems unusual for two reasons, she said: There is far less ice compared to recent years of high coverage, and there have been numerous storms blowing in from the south that have ripped ice from the shoreline.
"This year, we just happen to have several of those, so it kept beating up the shore-fast ice," she said. Some of that ice was thinned, some of it pulled away from shore, some of it moved around and some of it jumbled up into big blocks.
Effects felt across Alaska
Iditarod mushers suffered some of the consequences. In some cases, Cole said, mushers might have ventured onto dangerously thin ice that looked safe because of new snow on top of it.
For people living in western Alaska, the effects are mixed, Cole said. Tug operators should be happy, she said. "The resupply effort will probably be helped by this. Shore-fast ice is likely to go out earlier than ice in outer waters," she said.
Subsistence hunters who rely on shore ice to access game, however, may encounter some trouble — though bigger areas of open water might mean more access once hunters move offshore, she said.
Most likely, hunters in western Alaska will figure out how to cope with current ice conditions, as they have for generations, she said. "They know more about ice than any of us will ever know in our lifetimes. They know how to deal with this," she said.
Contact Yereth Rosen at yereth(at)alaskadispatch.com
Related Links:
Canada: Wildlife endangered by Yukon warm weather, CBC News
Finland:  Walkers warned: Finland's sea ice could be thinner than it looks, Yle News
Sweden: Weather deals double blow to Sweden's timber industry, Radio Sweden
United States: Weather takes a toll on wildlife, environment in Alaska, Alaska Dispatch