To SPOT or not to SPOT? Iditarod mushers and race officials question use of safety features in this year's race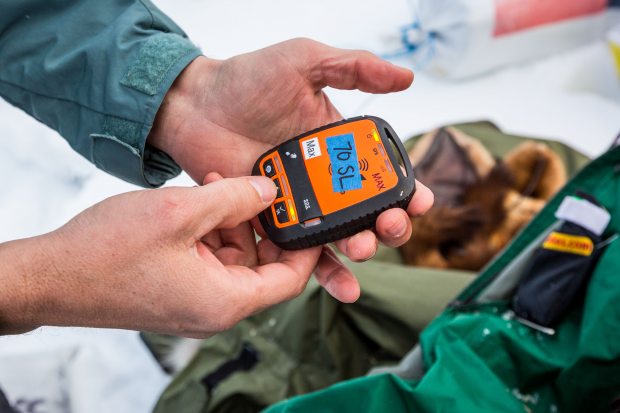 Even a month later, Iditarod musher Cindy Abbott still isn't sure what caused her to "push the button."
The California dog musher, racing in her second Iditarod, had been making her way through the Dalzell Gorge during the Iditarod Trail Sled Dog Race earlier this month, navigating the icy, steep descents that marked that section of trail without incurring major damage. It was terrifying, she recalled. A "death run."
Abbott — who made it through the same section of trail in 2013 with a broken pelvis sustained in an accident coming into Rainy Pass — did her best to prepare. She beefed up her sled, knowing the rough course would be difficult to navigate, and added a helmet and hockey pads to her gear list.
Still, the run was terrifying for the musher who climbed Mount Everest in 2010 in an effort to promote rare disease awareness, an issue she's been advocating for since she was diagnosed with the rare Wegener's granulomatosis in 2007.
After navigating a particularly steep, icy section of trail that foiled several mushers only a few miles from the Rohn checkpoint at the bottom of the gorge, Abbott stopped her team to regroup and recover and snack both herself and her dogs. Somehow, she recalled, she had kept her sled upright.
Abbott said after she cared for her dogs, she sat down on her sled and pulled out her SPOT tracker — a new piece of gear mushers carried this year. She gave it a closer look — mushers hadn't seen the trackers before they were pinned on their sleds just before the race restart in Willow. She opened the plastic cover and took a closer look at the bright red SOS button she could push in case of emergency.
After a moment, she put the tracker back in its dog bootie holster, pinned to her sled with an extra large safety pin, regrouped, got back on her sled, put her helmet back on, and drove her 14 dogs through the rest of the gorge to the Rohn checkpoint.
She still doesn't remember actually "pushing the button," a phrase that became more of an expression of exasperation during the 2014 Iditarod than an actual declaration of fact. She saw that the SOS light had come on, but she said there was no reason why she would have pushed it.
"It must have been a mental moment that I can't recall," Abbott said. "It's like I was in a time bubble."
Whether Abbott can remember or not, Iditarod race rules are clear: Press the button and your race is over.
Abbott understands this but was still disappointed her race was over so quickly. She invested hundreds of thousands of dollars to race.
"I knew I was scratching," she said. "It was OK. I understand. But I wished they hadn't had the button on there."
Controversy emerges
During this year's Iditarod, mushers saw a change in how their progress along the trail was tracked. In previous Iditarods, mushers carried IonEarth trackers — 4-inch-long units without help or SOS buttons that were attached to the front of every musher's sled. Those were replaced by two SPOT Gen3 trackers, each about the size of an iPhone. One contained an SOS and help button. The other was simply a tracker.
The use of SPOT trackers in long distance sled dog races is not new. Such races as the Knik 200 and Denali Doubles have started using them. Anyone can buy one of the trackers, which retail for just under $150, and mushers have long been allowed to carry the personal rescue devices for safety. Many smaller mid-distance races use the trackers. So does the 1,000-mile Yukon Quest International Sled Dog Race.
This year the trackers became a talking point during the Iditarod, when at least half a dozen mushers deployed their SOS or help buttons, removing them from the race.
For some, like "Mushin' Mortician" Scott Janssen, who sustained a concussion and a broken leg traveling through the difficult Farewell Burn, the SOS button was a blessing. But for some, like Abbott, it was a nightmare — another mental hurdle to get over before finishing the race. For some, like Hugh Neff, it just offered confusion; Neff mistakenly turned off the tracker instead of pressing the button for help.
Iditarod Executive Director Stan Hooley said the race looked for a new tracker after IonEarth, which supplied the previous trackers, was acquired by another company and decided to eliminate tracking for races. So the race turned to SPOT for the Iditarod's tracking needs. While the SOS and help buttons became controversial during the race, Hooley said those capabilities were not why the race went with the beacons.
"The intent was to use the SPOT device for its GPS tracking capabilities (as we were no longer partnering with IonEarth) — not for its "Help" and "SOS/Rescue" capabilities," Hooley wrote in an email.
Hooley said the race may consider disabling the button in future races, though SPOT spokesman Brad Grantham said that would be impossible with the tracker.
"(The SOS) would be especially needed during endurance races," he said.
But the idea of who responds and in what capacity met some criticism in this Iditarod. Neff in particular was outspoken that the race did not respond promptly. When a musher deploys the SOS beacon, the signal goes to GEOS International Emergency Response Coordination Center, which then coordinates a response with local authorities — including Alaska State Troopers and the Alaska Air National Guard. Hooley said he didn't immediately know who would be contacted when either the help or SOS button was pressed.
Lessons from other races
Marti Steury, the Alaska executive director of the Yukon Quest, said since the SPOT trackers were first introduced to her race in 2011, they've had about one musher a year "press the button." But 2014 saw a bit of a spike. Fairbanks musher Tony Angelo pressed his when his team "shut down" halfway between Eagle and Dawson City. Brent Sass of Eureka, who led for most of the race, pressed his after sustaining a head injury, and Fairbanks musher Cody Strathe pressed his a few days later when he became concerned for his safety after having a rough run into Braeburn, the penultimate checkpoint, in minus 49-degree weather.
In each situation, the Quest organization had already been mobilized to help the mushers, Steury said. That comes from watching the trackers closely, she said. When mushers deviate from the schedules they've been running, that acts as a first warning something may be wrong.
Over the years, she said, mushers have had mixed feelings about the devices. Some dislike them while others are fine with the tracking system.
"The reality is trackers are here, and it's not an option to go backwards," she said. "The technology always has a time and a place."
For Two Rivers musher Mike Ellis, racing in his second Iditarod, the prospect of pressing the button while he traveled from Unalakleet to Shaktoolik in 50-knot winds that blew him into driftwood never crossed his mind. Even though he and his dogs had to "crawl" across glare ice, he made it to Shaktoolik and managed to finish 40th.
Iditarod rookie musher Abbie West, a longtime Quest competitor, doesn't think much about the SOS button while she's on the trail, but she does wonder about how the tracker would influence people like her mom and kennel partner, people who are following her every move.
But when she lost her tracker somewhere in the gorge this year, West didn't worry much. When checkers offered to replace it at the Cripple checkpoint as she passed through, she wasn't sure if they reattached it to her sled.
"I guess that sums up my opinion of the trackers. I think they're great for spectators, but as far as any decision I made on the trail, the tracker played no part in any process at all," she wrote in an email. "I just always assume I'm on my own."
Contact Suzanna Caldwell at suzanna@alaskadispatch.com or on Google+
Related Links:
Canada: Profile – Dog mushing in Inuvik, Canada, Eye on the Arctic
Norway: Norwegian contingent prepared for Iditarod challenge, Alaska Public Radio Network
United States:  Yukon Quest can learn from Iditarod, say mushers, CBC News