Finland: Saimaa Canal reopens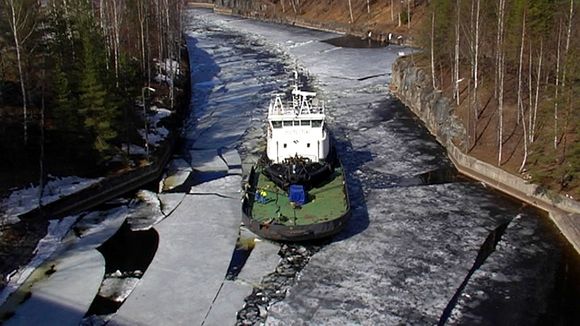 As a sure sign of spring, icebreakers are breaking up the ice on the  Saimaa Canal this weekend to open the waterway to cargo ships and boaters.
The Saimaa Canal connects Lake Saimaa with the Gulf of Finland near Vyborg, Russia. It also links to an elaborate system of inland waterways and canals, providing access to 120 interconnected lakes in the south-central and southeast part of Finland, known as Finnish Lakeland. Deep channels in the network extend all the way to Kuopio in Central Finland.
The icebreakers Protector and Meteor were dispatched to open the Saimaa Canal this weekend, starting out from Juustila lock, now named Brusnichnoye, on the Russian side of the border at 6 am on Saturday. They are expected to arrive at the Mälkiä lock by midday and continue on to Varkaus.
The Meteor will open waterways to the southern part of Saimaa, while pathways to the ports of Imatra and Joutseno will also be opened by Saturday afternoon.
The Saimaa Canal is normally opened and closed in the winter, dependent on ice conditions. This year, there is only half of the usual amount of ice, so the Canal could have been opened even sooner, but extensive renovations at the Juustila and Mälkiä locks delayed the opening. Breaking up the ice in current conditions is easy work for the icebreaker vessels.
The first cargo ships of the spring are expected to travel the Canal soon, but traffic will only really pick up once the ice has completely melted and the ice classes of various vessels are removed. Saimaa is expected to be completely thawed in a couple of weeks. Persons traversing the ice are warned to be on the lookout for the opened routes.
Related Links:
Canada:  Analyst criticizes inconsistent shipping costs to North, CBC News
Finland:   Interview with Arctic Corridor Spokesman Timo Lohi, Cryopolitics
Norway:  Norwegian company looks to Alaska for Arctic shipping port, Alaska Dispatch
Russia:  Russia, icebreakers and Arctic identity, Cryopolitics