Genetic studies of polar bears' past raises questions about their future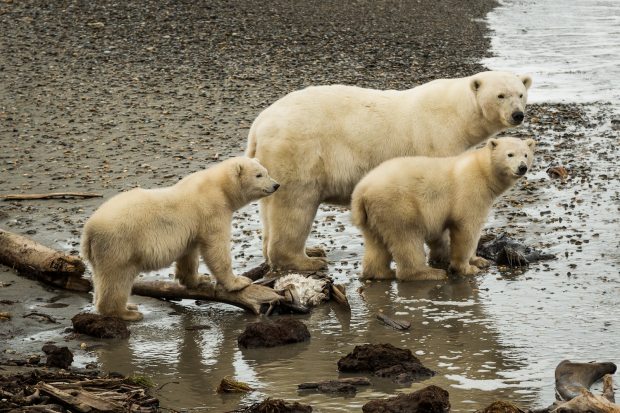 Today's polar, brown and black bears are the descendants of common ancestors that first began to split off into different species in the early Pleistocene Epoch, more than a million years ago, says a new study by scientists from the University of Alaska Fairbanks, University of California-Davis and other institutions.
Meanwhile, another study suggests one isolated population in Southeast Alaska may have seen polar and brown bears interbreed as recently as the end of the last Ice Age.
Polar bears and brown bears have common ancient ancestors, but they diverged as different species 1.2 million years ago, while black bears diverged from the polar-brown branch even earlier, an estimated 2.3 million years ago, according to the study, co-authored by Matt Cronin, professor of animal genetics at UAF's School of Natural Resources.
The new information about the origins of different bear species falls within ranges estimated in prior studies. One study, published in 2012 in the journal Science, estimated that polar bears and brown bears split around 600,000 years ago. Another study published that year, in the Proceedings of the National Academy of Sciences, put the split at 4 million to 5 million years ago, though that divergence was followed by periods of "admixture," or interbreeding between previously separated populations.
The genetic story
Complicating the genetic story is an apparent exception: Living isolated on a trio of Southeast Alaska islands, brown bears which have much more in common with polar bear ancestors than the world's other brown bears, according to another study.
Brown bears on Admiralty, Baranof and Chichagof islands — commonly known as the ABC islands — share genetic characteristics with polar bears, a legacy of what is believed to be some intermingling just as the Peistocene Epoch ended, according to that study, published in the journal PLOS Genetics.
The new genetic information raises questions about today's polar bears, classified as threatened under the Endangered Species Act because of rapidly-changing conditions in their Arctic habitat.
If polar bears survived in the much-warmer conditions that existed in past millennia, Cronin argues, it is logical to assume that they could survive in future warming conditions — even in conditions without summer sea ice in the Arctic.
"Our data suggests that polar bears have survived a long time, including past glacial and interglacial periods," he said. "To say they're not going to survive in the future is speculation."
The threatened listing applied to polar bears in 2008, was a policy decision, not a scientific decision that accurately reflects polar bears' likelihood of extinction, Cronin argues. "My interest is science. Can you ignore data from the past just because you don't like it?" he said.
But Steve Amstrup, a biologist and polar bear expert formerly with the U.S. Geological Survey and now with Polar Bears International — and a friend and past research colleague of Cronin's — disagrees. Past warming and cooling cycles — influenced by the earth's position relative to the sun — were different and more gradual than the modern trend, Amstrup said.
"Because the current warming is not at all similar to warming periods of the past million years, the fact that polar bears survived those periods tells us nothing about the risks they face today," Amstrup said in an email.
Genetic mixture
Also up for discussion is what the polar ancestry of the Admiralty, Baranof and Chicagof Island brown bears portends for the future.
Those islands were prime polar bear habitat during the last Ice Age, but when the glaciers receded, the polar bears there became stranded, the PLOS Genetics study said. Evidence from today's ABC bears — which carry almost all of their polar bear genetic legacy in their X chromosomes — indicates that they are the descendants of stranded female polar bears that mated with brown bears that migrated to the islands at the end of the last Ice Age, the paper says.
Brown bears were not on the islands between 26,000 and 12,000 years ago, but arrived after the ice disappeared, the paper says. The resulting population became brown bears with some polar-bear ancestry.
The genetic mixture did not go the other way, with polar bear populations holding brown bear genetics, the scientists say in their paper. Polar bears "are a remarkably homogeneous species and show no evidence of brown bear ancestry," the study says.
There have been some modern sightings in Canada of polar/brown bear hybrids, but the jury is still out on whether those occurrences have anything to do with climate change, according to Amstrup. Cross-breeding will not help preserve polar bear populations, he argues.
In fact, some scientists argue, cross-breeding is a threat to polar bears and other far-north species.
Thirty-four polar species may be at risk from climate-induced cross-breeding, scientists from the National Oceanic and Atmospheric Administration, the University of Alaska Southeast and University of Massachusetts argued in a 2010 article in the journal Nature.
Polar bears' ability to survive in Arctic conditions, with long periods of fasting and without hibernation, may be linked to a particular gene, according to another new study published in the journal Genome Biology and Evolution. Scientists authoring that study found a gene that allows polar bear cells to convert nutrients into energy — a process called "cellular respiration" — in a different way than that which occurs in brown bears' bodies.
Contact Yereth Rosen at yereth(at)alaskadispatch.com
Related Links: 
Canada: Polar bears and the ripple effect of climate change, Radio Canada International
Russia: Russia hosts meeting on polar bears, Eye on the Arctic
United States:  Polar bears increasingly coming ashore in Arctic Alaska, Alaska Dispatch